Twin Cities Pride 2016
When a girl puts on her running shoes, tutu, fairy wings and flaming pony socks, she can conquer the world.  I believe that life should be lived to the fullest, so when my friend Stacy invited me on a day of adventure, I had to say YES.  Some things may push you out of your comfort zone, but that's where all the fun is!  We may not have conquered the world (yet!) but we did put our stamp on Minneapolis.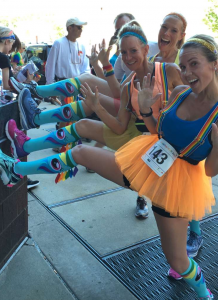 We began our Twin Cities Pridefest adventure with a 5K fun run.  I am pretty sure our flaming pony socks helped us run faster.  I met my personal goal by pacing under an 8:00 mile, but this race wasn't about coming in first.  It was about celebrating everyone running their own race, for walking bravely in their own journeys.  The day was about pure unconditional acceptance of others no matter their beliefs, orientation or lifestyle.  It was a truly true judgment-free zone (and if anyone let their freak flags fly, it was us three straight chicks).
The older I get, the more I realize some of us (gay or not) don't feel free to express who we really are; whether our fear of rejection or disapproval is related to our sexuality, our beliefs, or anything else. Life is too short to live that way!! If you don't OWN who you are and totally rock that shit, you aren't just limiting yourself, you're depriving the entire world of your awesomeness. If you feel as if you have lost a little piece of yourself, do whatever you can to get it back!  You are so much better for others when you are living up to your potential.  That's such a cornerstone of what I hope to help the people in my challenge groups accomplish in their own lives.
No matter who you are, no matter where you live or where you've been… Go forth and ROCK YOUR SHIT!