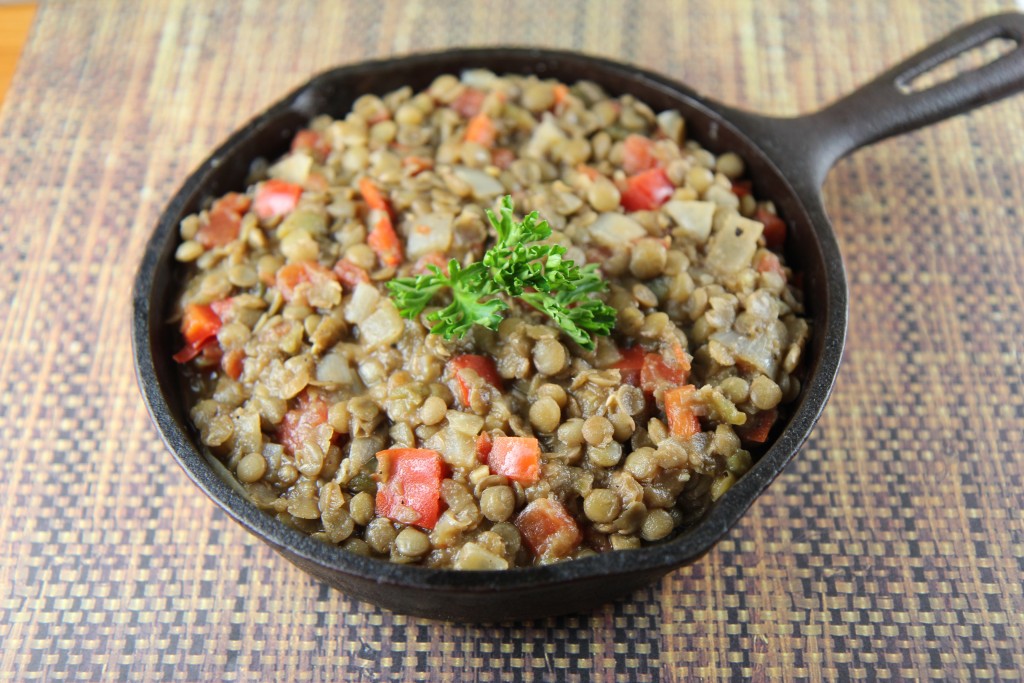 Why are lentils so hard to love?  They're cheap, tasty, and packed with protein.  These guys were particularly hard to "sell" them to my family.  My daughter was not interested in trying this dish whatsoever.  Luckily, my husband was a good sport.  I know it's a good thing when he says, "It doesn't even TASTE healthy!" (I have learned NEVER to tell them something is healthy – they will immediately assume it has no taste at all).  Not the case with this spicy lentil stew.  This dish was really, really good and incredibly flavorful.
Spicy Lentil Stew
1 quart water
1 cup dry lentils
3 tablespoons olive oil
1 medium bell pepper, chopped (I used red)
1 onion, chopped
1 3-oz. can jalapeño peppers, drained
1 15-oz. can diced tomatoes
1/2 tsp. garlic powder
Salt an pepper to taste
Chipotle chile pepper seasoning to taste
In a pot, bring the water and lentils to a boil. Reduce heat, cover and simmer for 20 minutes. Meanwhile, add olive oil to a skillet. Salute pepper, onion until translucent. Add jalapeños and tomatoes, stir until heated through. Remove from heat. When lentils have absorbed most of the water, add the pepper/onion/jalapeno mixture. Season with garlic powder, salt and pepper and chipotle pepper. Continue to simmer until heated through. Serve.
All was going well until I dropped the leftovers on the floor.  The 30 second rule applied and I was able to salvage most of it.  My dog happily cleaned up the rest.