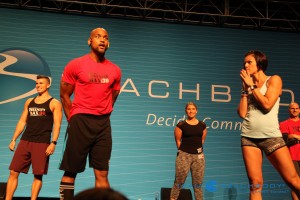 Shaun T  Week – Coming June 12th
Shaun T Week is Coming to Beachbody on Demand!   This is the first time in nearly three years that Shaun T has released new non-dance workouts.  I'm so excited!  Here's how it will work:  The workouts will drop ONE AT A TIME on Beachbody on Demand. So on Monday, we will get INSANE BASICS. On Tuesday, we'll get workout two and so on.  The week focuses on dialing in those fundamentals and then taking them to the next level.
This program doesn't come with its own nutrition plan, but I recommend following either the T25 nutrition plan or the Portion Fix container system.  Workouts are 25-42 minutes in length, and there will be a modifier.  If you like workouts like T25 or Insanity, you won't want to miss it!
We'll be hosting an exclusive Shaun T Week Challenge Group for those who are committed to participating (June 12th – June 18th).  BONUS!   3-Day Refresh kicks off the group June 9-11th.  Apply NOW!