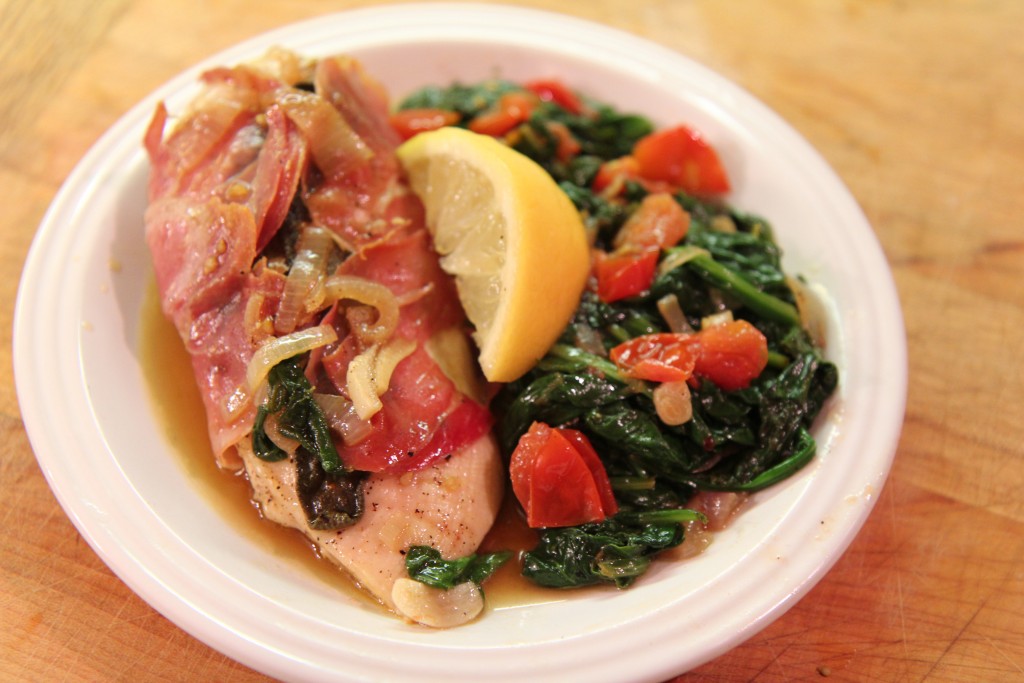 I consider myself a pretty decent cook, so making healthy meals at home is usually not a struggle for me.  However, I tend to cook the same types of foods over and over again.  What I loved most about my recent HelloFresh box was that I got to try ingredients and preparation methods that were new to me, and recipes I normally wouldn't try on my own.  I mean, I've never wrapped Chicken in Proscuitto with sage leaves.  Guess what… It's delicious!  Who knew?!
Proscuitto-Wrapped Chicken Saltimbocca
2 chicken breasts
1 sprig fresh sage
1 lemon
2 cloves garlic, minced
4 oz. prosciutto
1 1/2 Tbsp. extra virgin olive oil
1 C. grape tomatoes, halved
1 shallot, chopped
1/2 C. chicken stock
8 oz. spinach
Preheat oven to 400 degrees.  Season both sides of the chicken breast with salt and pepper.  Top each chicken breast with two sage leaves and wrap with prosciutto.  Spray a baking sheet or pan and bake for 20-25 minutes, until juices run clear.
Meanwhile, heat the olive oil in a skillet on medium heat.  Saute the shallot and garlic, and remaining sage.  Next, add the tomatoes with the juice of the lemon.  Heat through, 3-4 minutes.  Add 1/2 C. chicken stock.  Lastly, toss the spinach in the tomato/shallot mixture until wilted, about 1-2 minutes.  Season with salt and pepper.  Serve with the chicken while hot.
Learn more about how to get fresh food delivered to your front door for less with these HelloFresh coupon codes