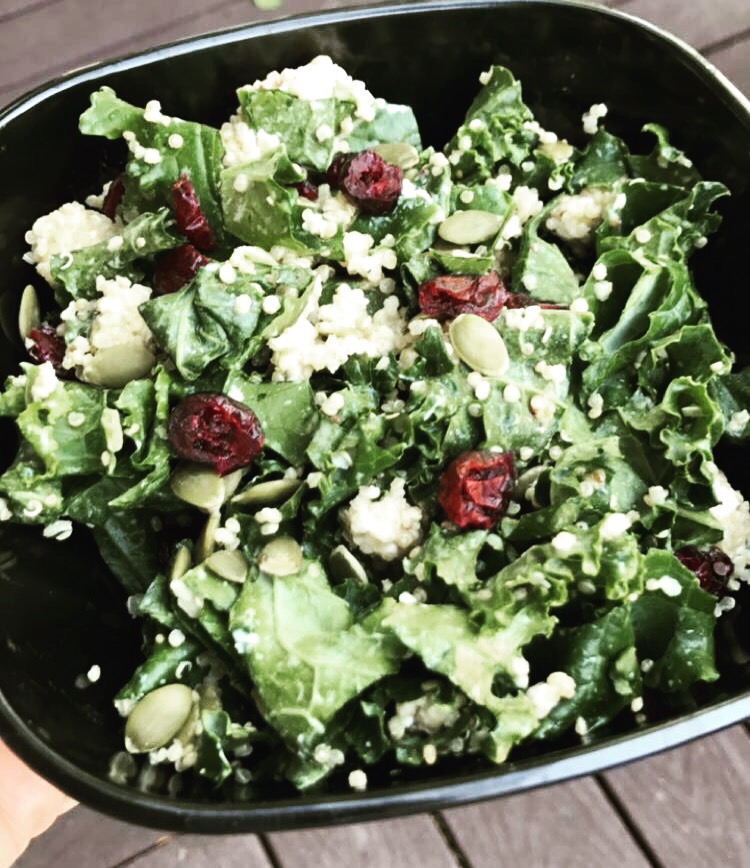 You'll LOVE this salad – packed with superfood ingredients.  Kale is one of the healthiest foods on the planet.  Just one cup provides over 100% of your daily requirements of vitamin A, K, and C.  Plus, it's packed with fiber to aid in digestion and help regulate blood sugars.  Pumpkin seeds are a great source of protein and healthy fats.  This salad is great for vegetarians as well.  Quinoa is one of the very few plant foods that is actually a complete protein – which means it contains all nine essential amino acids.
Salad:
2 cups chopped kale, ribs removed
1 cup quinoa, cooked in vegetable or chicken stock
1/3 c. dried cranberries
1/3 c. pumpkin seeds
1/2 c. crumbled goat cheese
Dressing:
1 tsp. minced garlic
1 Tbsp. dijon mustard
2 Tbsp. raspberry vinegar (or, use red wine vinegar)
1 Tbsp. extra-virgin olive oil
1 tsp. honey
salt and pepper to taste
Toss all salad ingredients with the dressing.  Refrigerate well before serving.  Makes four servings.