Congratulations! You've decided to take the next step in your fitness journey and help others achieve their goals as well. The first milestone you'll reach as a Beachbody Coach is Emerald Rank. That means personally sponsoring two other coaches; one on your left leg, the other on your right. That's when the fun begins! As an Emerald Coach, you'll be eligible for team cycle bonuses and even customer leads from Beachbody when hit Success Club. But how do you find others to join you? We asked some REAL coaches how they hit Emerald. This is what they said: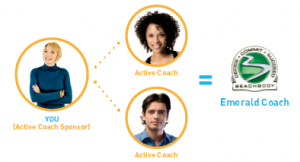 REAL COACH Q&A:  Who were your first two coaches?
My first coach signup was a friend I knew who loved social media and was already a personal trainer. I told her that Beachbody was a way she could combine both while benefiting what she was already doing, not take away from it. She was a Zumba instructor and wanted something to give her clients on off-days, as well as a nutritional program – so she got a lot of 21 Day Fix enrollments. My other first coach was my husband.
Mine were my mom and a girl who I met, who is now my girlfriend.  She started working the business after I got back from Summit.
Mine were two friends I sent cold invites to when I started. I had asked them to participate in a challenge group with me so we could be support for one another. I was a week or two into coach basics and signed everyone up. Over two years later, they are still getting Shakeo as discount coaches monthly.
My first coaches were my mom and my hubby.
My first was a friend that was already familiar with Beachbody.  We were actually involved in a different networking marketing company.  She wanted the discount. The other was a lady I worked with 10 years ago and I hadn't talked to in years. She saw my results post and joined my challenge group and then became a discount coach the following month.
My hubby and my friend who joined my first challenge group
I signed up almost all of my initial customers as coaches. I explain it's the best deal since the fee is waived if they buy a challenge pack, it will save them a lot of money if they like Shakeology and want to keep getting it in the future, and that they can cancel at any time. Almost all of them opted to do it! This made the transition easier when a coach decided to go active, too.

My boyfriend (now my ex) and my mom.
 Hubby and one of my 1st customers who wanted it for the discount
Husband and mother-in-law
Husband and sister in law
Two customers who I knew through mutual friends.  I gave away the P90x programs (which was the SC prize that month) in a raffle for buying a challenge pack and I signed them up as discount coaches right away.
My hubby and my mom. My hubby didn't want to but I convinced him to just sign up and please support me and that I would make sure he made enough each month to cover his Shakeology. I paid for my mom to sign up and I plan on one day making her diamond so that she can make some money and I can help he.
My first two were challengers who signed for the discount