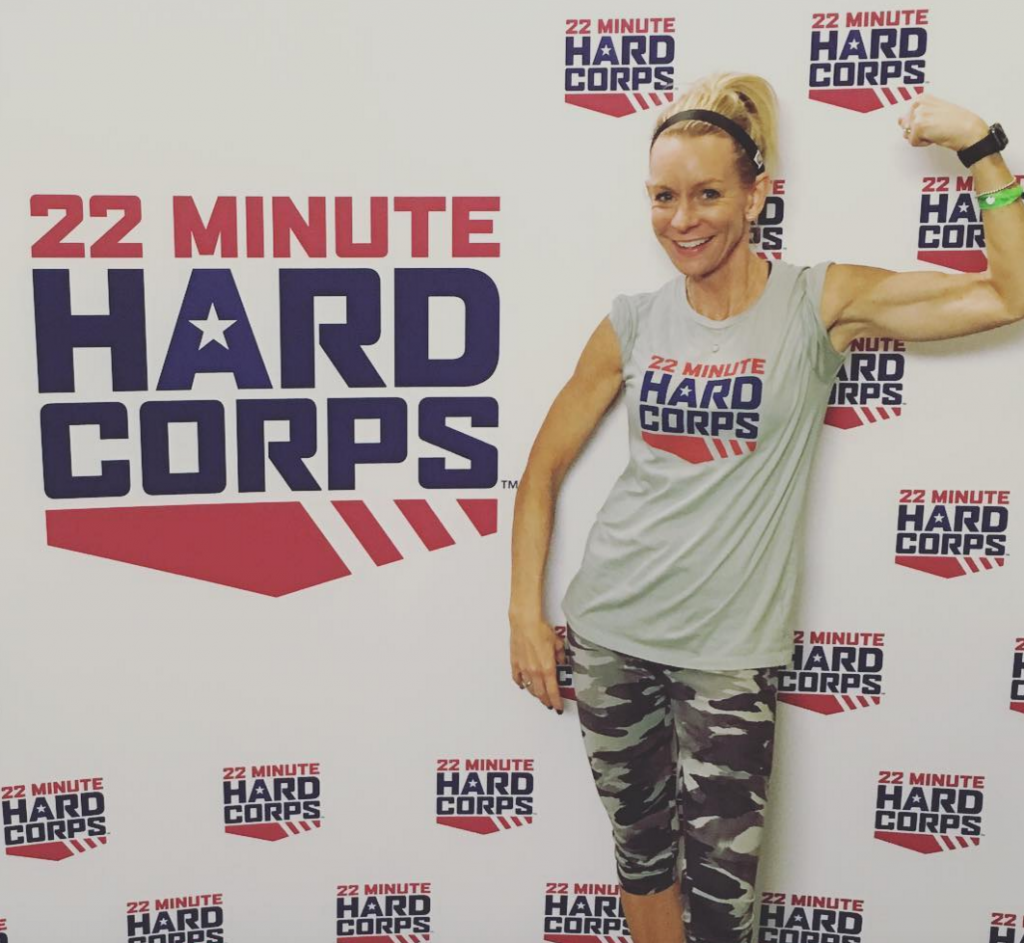 22 Minute Hard Corps
Today is the BIG DAY!  It's the day that Tony Horton's new workout,22 Minute Hard Corps launches.  I'm sure a lot of you have questions about what the workouts are like and who they are for.  Here we go!  If you have more questions, type them into the comments below.  Want some team support at you do the 22 Minute Hard Corps workouts?  Our team will be hosting an EXCLUSIVE test group starting 3/14 via the My Challenge Tracker app.  APPLY HERE

What are the workouts like?
It's a military-inspired total-body conditioning program.  Because the workout is so quick, the moves are simple.  There is not much of a learning curve – it's easy to catch on to right away.  Tony Horton didn't want to waste time having people trying to figure out the moves.
Who is 22 Minute Hard Corps for?
This workout is for anyone that wants an intense total-body workout and doesn't have a lot of time. It's also a good fit for runners who want to add a supplemental workout to their running routine. It is great for all ability levels. There is a modifier for beginners to follow.  It's ideal for those who prefer shorter workouts such as P90X3 and T25; those looking for a more challenging, intermediate level workout after completing P90 or 21 Day Fix; and those who are not ready for an extreme fitness program.
What is the difference between 22 Minute Hard Corps and P90X/P90X3?
P90X and P90X3 are 90-day extreme fitness programs. Both programs provide an extensive variety of fat-burning, muscle-perfecting moves that continually challenge the body and are considered advanced workouts.  22 Minute Hard Corps is a shorter, intermediate level program that has total body routines to improve overall fitness.
What equipment will I need?  Do I need a lot of space?
The program comes with a sandbag which you can fill according to your ability level (lighter for beginners, heavier for advanced athletes).  You will need weights and a weight room rack (if you're like me, you can use bands instead like Hammer and Chisel workouts).
How long is the program?
22 Minute Hard Corps is an 8-week program plus a "Hell Week" workout for week nine.  There are levels:  Cardio 1, Resistance 1,  Core 1.  You'll do that for the first couple weeks before moving on to levels 2 and 3.  You can choose to add in more difficult workouts as you advance.
Is there a lot of jumping?
There are not a lot of plyometrics.  There are some Burpees and jumping jacks, but you can modify without the high-impact moves.
What is the nutrition plan like?
22 Minute Hard Corps also uses the Beachbody container system.  It does not come with the containers.
What is the "Fit Test"?
Before you start the program, you will be asked to do a "Fit Test" that consists of moves like holding a forearm plank, jumping jacks and push-ups (how many you can do in a minute).  When you've completed the program, you will also complete the Fit Test.  It's a great way to measure how your strength has improved over the course of the eight weeks.
How can I order? 
The22 Minute Hard Corps™ CHALLENGE PACK is now available and is on SALE through the month of March. It comes with everything you'll need for our challenge group – 8 DVDs, sandbag, a month of Shakeology or Performance shakes, free trial of Beachbody on Demand, exclusive code for participation in our challenge group AND me as your coach!  Here are your two buying options:
22 Minute Hard Corps™ and Shakeology® Challenge Pack
22 Minute Hard Corps™ and Performance Challenge Pack
When your order goes through, let me know so I can reserve your spot in our challenge by emailing me at [email protected]  Space is limited, so don't wait!
[wufoo username="kimdanger" formhash="zl1937o0selchg" autoresize="true" height="1634″ header="show" ssl="true"]