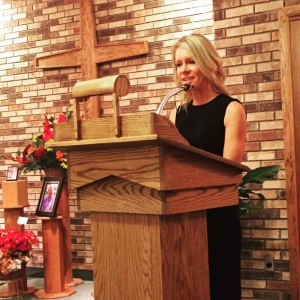 Last Monday was the toughest day of my life.  It's the day I lost my dad unexpectedly.  He had recently been diagnosed with lung cancer and was undergoing treatment, but was expected to go into remission after it was completed.  And as so often as we are reminded, we are not in control.  God had another plan.  His body wasn't strong enough to endure the intense treatment it needed, and he died of complications due to chemotherapy.  Even though at the end of his life he was weak, his legacy is one of strength.  I was honored to not only witness that as I grew up, but to speak about it at his memorial service yesterday.
Dad was a huge sports fan but was also an awesome athlete.  He loved to tell stories of his sports accomplishments.  In high school he pitched a couple no-hitters and he also won 20 games in one year.  Recently, when I visited, he told me the story of how he was the fastest Freshman walk-on at Iowa State to round the bases.  Not only that, the baseball coach pulled him aside and told him he was faster than all the upperclassmen as well.  That's when the coach suggested he go out for track (Freshmen weren't allowed to officially be on the baseball team). I didn't know this until this week, but he was invited to try out for the St. Louis Cardinals.  He was named All-American in football in 1961.

He also loved to tell the story of how he was the fastest recruit in boot camp at Ft. Bragg, North Carolina in the early 1960s.  and won a weekend pass.  He knew he'd do whatever it would take to win that.  Of course he won.  Whenever dad set his mind to something, he'd usually accomplish it.

Growing up, I was never much of an athlete.  I like to think my brother got Dad's athletic genes and I got his intellect.  We can argue over who got the good looks.  😉 Dad loved watching Brad's games.  He never sat, he would walk the sidelines at the football game, stand by the fence at the baseball field or just off the basketball court.  I'm sure that when he watched Brad, he saw a bit of himself as a high school athlete.

In August, I started training for my first half marathon (maybe I got some of his athletic genes after all).  That was also about the time my dad was diagnosed with SCLC (small cell lung cancer).  As the weeks went on, chemo and radiation took a toll on his body. He lost strength, balance and mobility.  When I'd be out running and I'd start getting tired, sore, cranky or just feeling like I wanted to stop, I'd think of him. He missed his mobility so much.  I'd think of how he was fighting the toughest battle of all, and quitting was never an option for him.  I wouldn't let it be for me either.  He couldn't run anymore, but I COULD.

My race was last Sunday morning.  Later on that afternoon, I talked to dad on the phone to tell him about how it went.   I told him about the weather, the hills and how the last two miles were really tough.  He had seen the pictures of how I had worn Iowa State and Dodger gear to honor him and I know I made him proud.  That race wasn't just for me, it was for him.   I know the competitive side of him was pleased that I came in below my goal time of two hours, with 50 seconds to spare.

I had no idea that that would be the last time I'd talk to him, but when I look back on our conversation I realized it was a gift for both of us.  We talked about family pulls together in tough times, and even as he was at his weakest, my strength came from him.  Because that's what families do.  They draw strength from each other.  I know the weeks and months ahead won't be easy.  But I do know that we will be strong when we can be, and lean on others when we can't.  And we will always have Pa's memory to give us strength.