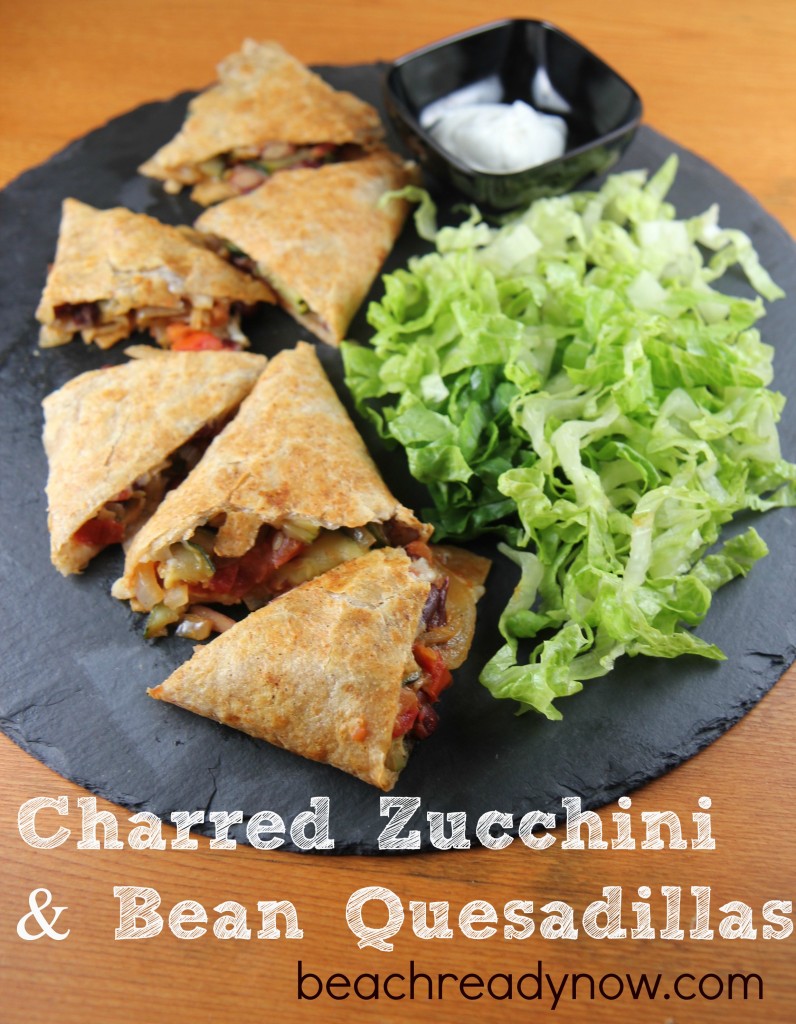 Are you having a hard time getting enough veggies in your diet? This recipe is packed full of good-for-you greens.  Kidney beans make it substantial, cumin and chipotle pepper give it a little kick.  (This one came in my HelloFresh box.  For those of you that feel like they lack time or creativity in the kitchen, check out HelloFresh and find out how they can help you create clean-eating meals at home).  
Charred Zucchini and Bean Quesadillas
1 onion, thinly sliced
1 zucchini, halved and sliced into 1/4-inch half-moons
1 Cup thinly sliced romaine lettuce
1 15-oz. can kidney beans, rinsed and drained
1/2 jalapeño, seeded and minced
4 Roma tomatoes, cored and chopped
1 tsp. cumin
1 tsp. chipotle powder
1 Tbsp. extra virgin olive oil
1 C. Mozzarella cheese, divided
2 12-inch whole wheat tortillas
Greek yogurt
Lime
Salt and pepper to taste
Heat one tablespoon extra virgin olive oil over medium heat in a skillet.  Saute onions until translucent.  Sprinkle zucchini with salt and pepper, then add to skillet. Cook for another 2-3 minutes, until charred.  Next, add the beans, tomatoes, jalapeño, cumin, and chipotle powder.  Cook through, then remove veggie mixture to a bowl and wipe the skillet with a paper towel.
Add 1/2 teaspoon olive oil to the skillet.  Place tortilla in the skillet, and sprinkle with half of the Mozzarella cheese.  After your cheese has melted, add half of your zucchini mixture.  Fold over the tortilla and turn.  Cook until tortilla is crispy.  Repeat with other tortilla.
Serve with romaine and Greek yogurt crema (yogurt + lime juice).