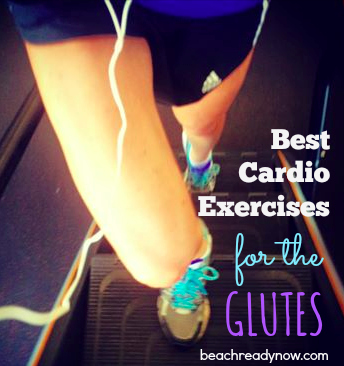 In 2007, researchers at the Madonna Rehabilitation Hospital in Lincoln, Nebraska, tested various cardio machines to see which ones were most effective in engaging the glute muscles.  Their findings were as follows:
| | |
| --- | --- |
| The Machine | Percentage of Glute Muscles Activated* |
| Treadmill (jogging) | 48.9 |
| Elliptical | 32.6 |
| Treadmill (walking) | 24.3 |
| StairMaster | 24.0 |
| Recumbent Bike | 6.0 |
The treadmill was found to be most effective, followed by the elliptical.  How you work these machines also has an impact on their effectiveness.  Here are some tips to get even more booty-burn from your cardio workout:
Skip every other stair on the StairMaster so your strides are extra-long
While on the elliptical, draw your hips back slightly so your butt sticks out a bit
Walk on the treadmill at the highest incline you can manage for 30 minutes
When running and walking, push off the heel of your foot. This contracts more muscles in your glutes.
However, the best way to build your glutes is still with shaping and toning exercises rather than cardio.  Join one of our Challenge Groups and focus on firming that booty!
Sources:  Women's Health, Examiner