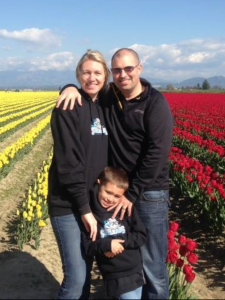 About me:
My name is Libby Frankel-Johnson, and our little family of three lives in Franklin, TN.  I have been an elementary teacher for thirteen years, and am currently teaching fifth grade math/science.
Why I decided to become a coach:
On my 35th birthday, I made the decision to purchase 21 Day Fix, with the intentions of losing 15-20 pounds.  I joined a challenge group right away and realized that this journey was about so much more than losing weight.  I found such support in my new coach and fitness buddies, and I was able to make and sustain significant changes in my eating and fitness habits – which have spilled into other parts of my life.  I was inspired to become a BeachBody coach, because I want to encourage others as they journey towards a healthier lifestyle.
Favorite Beachbody workout program:
21 Day Fix and 21 Day Fix Extreme – 21 Day Fix was absolutely perfect as I transitioned from never working out, to working out everyday.  The modifier made every exercise doable, and helped me feel successful.  I love that after 4 rounds, Autumn's videos provide ways to make each exercise challenging.
Current fitness goals:
We are continuing to venture into the world of clean eating.  We have eliminated a lot of "packaged" food from our diets – and my goal is to prepare clean meal 85% of the time.  I am also working towards heavier weights during my workouts.
Favorite healthy meal:
Our favorite healthy meal is Teriyaki Flank Steak from 100 Days of Real Food.
Favorite motivational quote:  
"She believed she could, so she did!"
What I'm reading for PD right now:  
Right now, I am finishing The Power of Habit.  It has truly helped me recognize why I do the things I do, and how to rethink my patterns of behaviors.
Advice for those getting started with fitness:  Plan!  Plan your meals – what you'll eat and when you will eat it; plan your workouts – which workout and what time … writing down what I am going to eat and which workout I will do helps hold me accountable and makes it easy to stay on track. When you have a tough day – let it go – every day is an opportunity!    Love yourself – YOU are worth it!