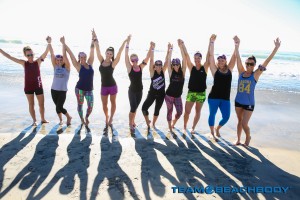 Hello, Friends!
Did you know that on average, most people gain 7 pounds between Halloween and the New Year? I'm COMMITTED to not let that happen to me! You don't have to either, and it doesn't mean giving up the things you love during the holidays, either.  If you'd like to join a group where you have full support/accountability in November, enjoy your Thanksgiving, take a few days off and then crush your goals again in December- apply below!  I have TWO groups opening up TOMORROW (10/31).
CORE DE FORCE LAUNCH GROUP
Core De Force is the new workout program developed by Super Trainers Joel Freeman and Jericho McMatthews.  You may know them from Les Mills' Pump or Beachbody on Demand.  I did Core De Force LIVE with them last weekend at the Beachbody Leadership Retreat in Coronado, California – and even got to talk to Joel and Jericho while I was there.  Both are not only great trainers, they're down-to-earth, genuine people.  With Core De Force, each workout is broken into 3-minute "rounds" — just like a real boxing match. In those 3 minutes you'll alternate between addictive Boxing, Kickboxing, and Muay Thai-inspired combinations, bodyweight training, and cardio spikes that kick your fat burn into overdrive.  APPLY HERE
NO EXCUSES NOVEMBER
No Excuses November is for anyone doing a Beachbody program besides Core De Force.  Many of our popular programs – PiYo, Country Heat, 21 Day Fix, and 22 Minute Hard Corps are ON SALE through the end of October.  Ask me about how you can sign up for an ongoing discount or how to find the program just right for you.  No Excuses November will be a 30-Day Group that takes place in a closed Facebook group.  There will be daily assignments, menu plans, recipes and fun!  APPLY HERE
As always, feel free to join our Beach Ready Now support group on Facebook.  It's the best place to ask questions and connect with me and fellow challengers!  Together, we are stronger!
Warm regards,
Kim Danger