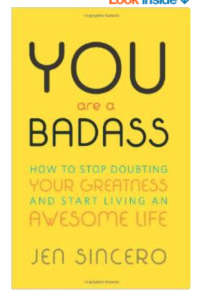 I read a lot of personal development books.  A LOT of them.  When I'm not reading them, I'm listening to podcasts, audiobooks and listening to YouTube videos.  I totally believe that personal development is crucial for success in fitness and daily life.  To have a great outer life, you must start improving from within.  That's why it's a requirement for anyone who joins my challenge groups.
Every once in a while I come across a book that I want to recommend to everyone I know.  You are a Badass is a book like that. In fact, I emailed/texted/Snapchatted three people about it before I was even through with Chapter One.  It's the type of book that I wish I could write if I were to write another book.  But Jen Sincero saved me the work of putting pen to paper.  Thanks, girlfriend!  You're a TOTAL badass!
I am actually writing this blog post having only read half of the book (I started yesterday).  Even if I don't read another word, I'd still give it five stars because I already feel like I've gotten my money's worth.  It finally puts all the Law of Attraction stuff into terms that Generation X can understand.  So, while most of the ideas here aren't new, they're presented in the most down-to-earth way I've found yet.
I can't really think of too many people who would not benefit from reading it, but it will be especially good for my clients who:
Lack of confidence
Have self-defeating thoughts
Do too many things to please others
Aren't living up to their potential
Are bored with life
My advice?  Buy this book NOW!  It's one that you'll want to have for those times you need a good old-fashioned kick-in-the-pants to break you out of your rut.   Head on over to Amazon and add it to your cart pronto.  Amazon: You are a Badass