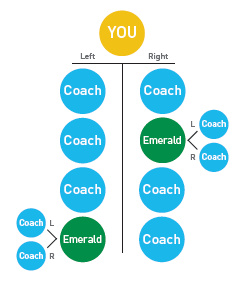 If you're a new Beachbody coach, I'm sure you're anxious to get your business rolling.  It's exciting to think about the possibilities of earning a full-time income doing something you love. The first rank advancement, Emerald, is something to celebrate.  It means you have two active coaches on your team; one on each leg (read more about how coaches went Emerald).  Essentially, you are now officially "open for business" and eligible for team cycle bonuses and customer leads. This would also mean that you'd have to acquaint yourself with the crux and various aspects of good Customer Care.
I definitely encourage new coaches to go Emerald within their first month like I did because it creates momentum and typically covers your challenge pack purchase.  However, why just shoot for Emerald?  Go for DIAMOND right away!
You can achieve Diamond rank by personally sponsoring eight coaches, including one Emerald coach on each leg.  Doing this in your first month is definitely not out of the question.  Other coaches have done it, and so can you.  It just takes determination, drive, and know-how.  Here are the steps that most coaches mention when going for Diamond
quickly:
Sign up your spouse on your weak leg
Sign up another family member on your other leg
Post your personal success story on your social media channels (do not mention Beachbody products, it comes across as salesy and will alienate your friends) and mention your upcoming challenge.  Say you're looking for a few accountability partners to join you.
Post on your social channels 3-5 times a day
If you have a blog, share a recipe on your social channels once a day (ESPECIALLY on our team's PINTEREST Board)
Do a go-for-no challenge with another coach (ask me or your upline coach for a success partner) and invite to our team's upcoming challenge groups
Read The Compound Effect
When you find challengers for our challenge groups, enroll them as discount coaches.  Explain to them that if they enroll as a coach they'll start saving $15 on Shakeology even with the coaching fee month two (more on that here: Can I sign up as a Beachbody Coach just for the discount?).
Nurture the relationships you have with your challengers, and help them reach their own goals.  Realize that they are potential coaches too.  When someone stands out as a star player, approach them about the coaching opportunity.
Invite as many people as you can to our team's monthly Sneak Peek into Coaching group and share your own success story about going Emerald so quickly.  When the group ends, invite to the opportunity!
If you are interested in becoming a Beachbody coach, contact me for more information.