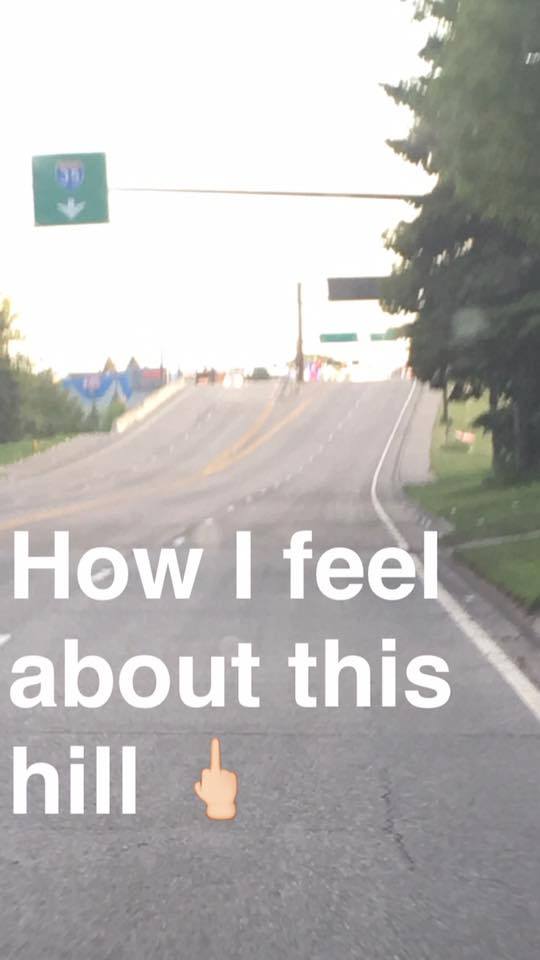 Recently, my son ran hills in cross country practice. For those of you who run, you know hills are TOUGH. They make me want to quit running. I hate them. I avoid them. (I even snapped this picture during Grandma's marathon, which I believe was at about mile 20 or something crazy like that). But, they're necessary to make us stronger runners. I asked him
if his coach had any advice on running hills. His response? "Take small steps and don't look up". Brilliant advice. 
This method also works for my challengers who are faced with a large weight loss goal.  Often, the hill seems so daunting they want to give up before they even start.  I tell them, "If you have a long way to go, don't get discouraged that it may take a long time. Focus on the habits that will get you there, like clean eating and exercise, and the weight will come off eventually."  That may seem like simplistic advice, but focusing on the small steps along the way without looking up at that big scary hill is key.
I am a product of that advice.  Five years ago I couldn't run a mile, three years ago I got back into 5Ks. In 2014 I ran a 10K, in 2015 a half marathon and in June of 2016 a full marathon. If I had looked at the road to running that marathon as a whole back in 2011, instead of each tiny step by itself, I would have easily become discouraged and given up.  Lesson = sticking with it daily will help you accomplish great things as long as you never give up.
This is true not just with health and fitness, but in life.  Sometimes when the goal seems too large or daunting we avoid taking it on altogether.  Do you avoid hills in LIFE? DON'T!! Take them ON. Sure, they're scary, but they will make you STRONGER! When you take the advice of that coach, they're not as hard as you think. Tackle hills in tiny steps so you don't run out of steam before you reach the top. Don't look at the hill when you're climbing it, focus on what's at hand at that MOMENT. Be PRESENT.  If things get tough, pump your arms even harder.  
If you do that, the rest takes care of itself. Pretty soon you'll find yourself at the top with a feeling of immense satisfaction. You can look back at where you came from and say I DID IT.