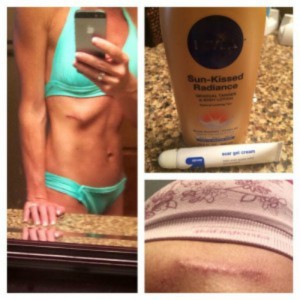 While I absolutely ADORE the sun and being outside, for me "Beach Ready Now" doesn't include soaking up too many damaging rays.  Trust me, I did that in the 80s – on the lake slathered in baby oil. Not cool! Plus, the reality of skin cancer has hit my family hard in the past few years. My dad has had several spots removed, last year had surgery to remove melanoma from his neck. After seeing that it runs in the family, I decided to get some of my own moles/spots looked at last fall, and one of my biopsies came back as precancerous melanoma as well. This is nothing to take lightly, my friends!  I have an ugly scar to prove it.
DON'T FORGET THE SUNSCREEN!
I keep sunscreen in my purse because I always seem to need it when I'm not at home: At my son's baseball games, sitting on the patio having lunch with a friend al fresco, etc. The important thing is to have it with you at all times. Keep some in your car is also a great idea. If you're active, invest in a product that's designed for active lifestyles. I sweat a lot (sorry to gross you out) so I look for one that's sweat-resistant like Neutrogena CoolDry sport.  What I like about it is that it isn't greasy, so it adapts well to any situation.
SUNLESS TANNER
Instead of spending a lot on salon spray tans, I just use a regular over-the-counter bronzer. The trick isn't so much the product you use as it is how you apply it. First of all, make sure you have completely exfoliated your skin. Otherwise, you'll get patchy spots of color in dry areas. Next, I apply the bronzer all over when I've just stepped out of the shower. My skin is already damp, which helps spread it evenly. While the bronzer is drying, I make sure I thoroughly wash my hands – especially in between fingers where the bronzer tends to build up. Next, when it's almost dry, I rub it in again with damp hands, just to ensure it has gone on evenly.
HYDRATE
If you're thirsty, you're already starting to move into the dehydration zone.  To prevent that from happening, carry a water bottle with you at all times.  I usually have a case of water bottles in my car JIC (just in case).  Besides being one of the healthiest things you can do for your insides, drinking plenty of water will also help your skin look better and less wrinkly.  TRUE!  As a "mature" woman, this is something I remind myself of to ensure I get adequate supply.  Nope, soda doesn't count.   A good rule of thumb is to get half your body weight in ounces each day.  If you weigh 120, that's 60 ounces.
This post is sponsored by FitFluential on behalf of Neutrogena.