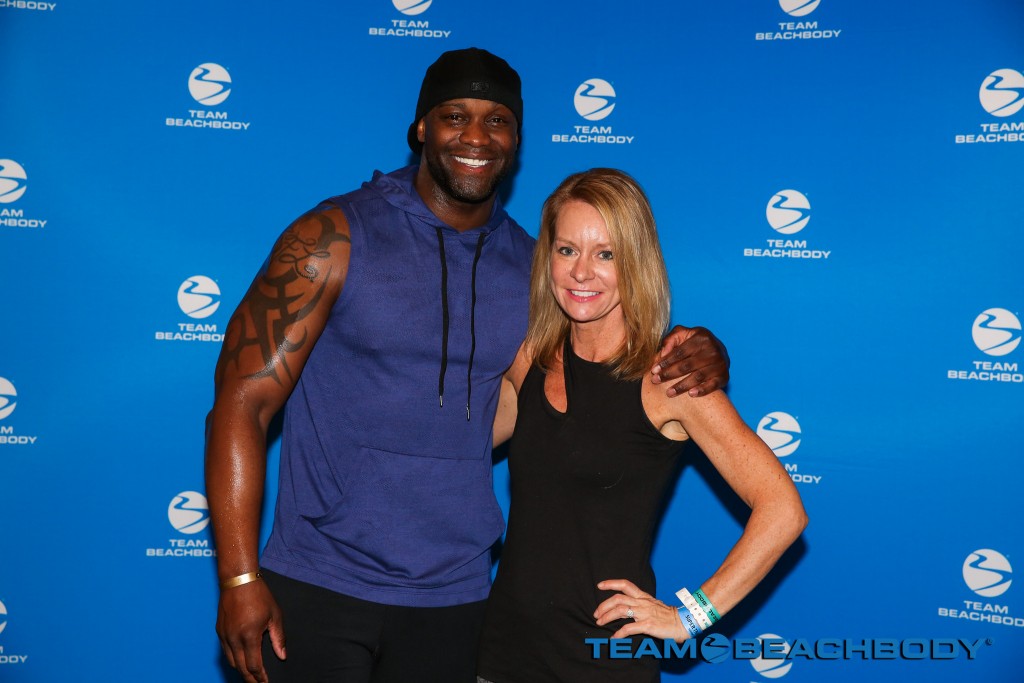 Shift Shop Test Group Results
I'm so excited for the release of Shift Shop!  I got to preview the workout LIVE in Punta Cana and have followed all the amazing Test Group Results from fellow coach friends (many of their stories are below).  Make sure you fill out the application to join my exclusive Shift Shop Launch Group!  The Shift Shop Release Date is July 12th, 2017.  Our group will start shortly after that.  Make sure you reserve your spot ASAP!  (NOTE:  Please only apply if you are not already actively working with another coach).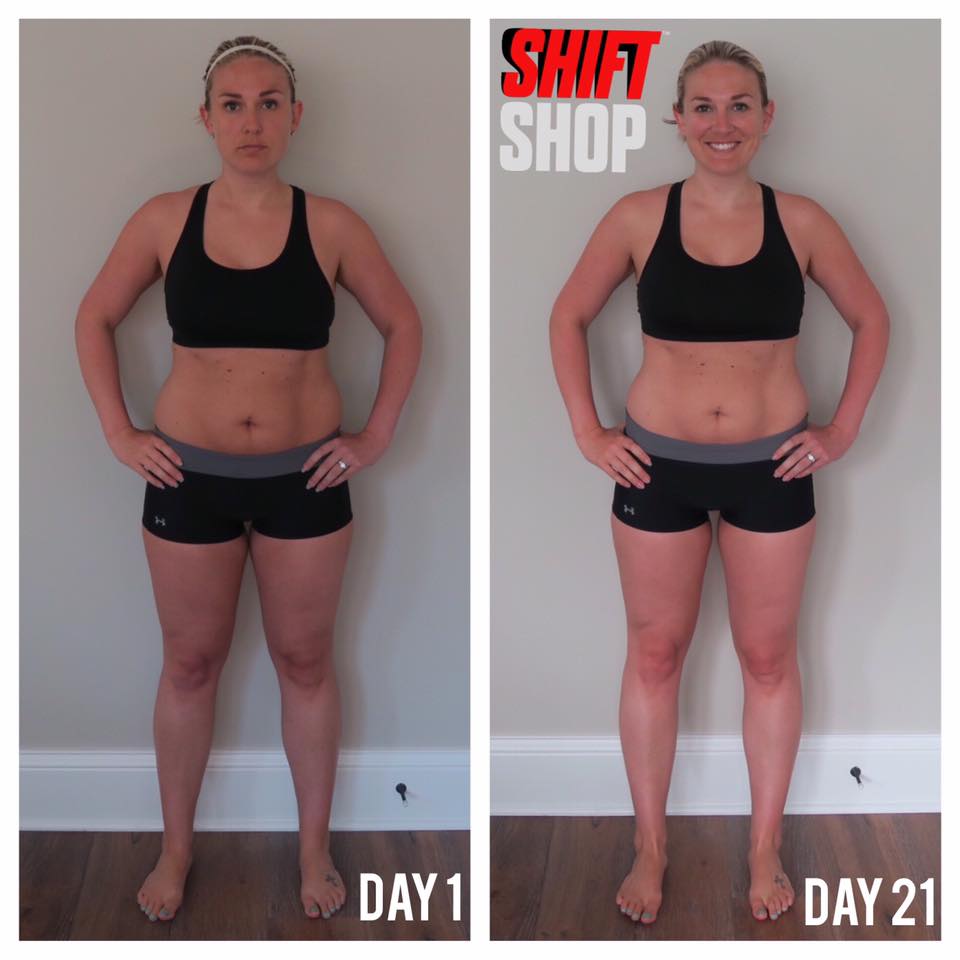 That's a wrap on round 1 of the Shift Shop Test Group and I was invited back for round TWO, starting today
👀 You better bet I said YES, to a program and trainer Chris Downing, that has dramatically transformed me on the INSIDE: in my coaching business, in my personal life and as a mom more than anything and I KNOW that what has happened on the INSIDE these last 21 days is about to show on the outside the next 21 days
🙌
.

⬇️ 11 inches: including 3 on my waist, 2 on each thigh
👀

⬇️ 9lbs: extremely shocking considering it was taking me months after my 75lb weight loss to lose 1 lb!
.
I shared my side befores/afters yesterday…because it is ALWAYS easier postpartum to see my results that way, than head on. My midsection is still taking its sweet time to catch up and I'm completely ok with that, because it has taught me patience and grace on my journey. It has also allowed me to focus on the bigger picture and relate more to those who have a longer journey out in front of them that might feel like a huge mountain at times.
.
More than anything, this test group and Chris, have taught me how to be a better coach!
.
I was never a "challenger" and I never had a "coach" — I kind of just started with coaching others. But we ALL need coaches!! For the first time — I was the challenger. For the first time, I had experienced the POWER of having a coach. Yes, I believed in the importance of what I offered as a coach, but not like I do now! Everyone needs a coach and Chris has taught ME how to be the best coach I can possibly be! There are things I would have never experienced, that I can now share with my challengers, had it not been for him and this Test Group experience! I now have SO much more to give and I sincerely apologize to my coaches and my challengers for not giving you the experience I had the last 21 days — simply because I had never experienced it myself
🙌 Be prepared for my current and future groups to be insanely different
💪 AN EXPERIENCE! This whole thing has been an experience.
.
For the first time, I really understood how my challengers and clients have felt in groups.

✅ the fear of failure

✅ the fear of letting my coach down

✅ the comparison game, which sometimes kept me from wanting to check into the group

✅ the doubt

✅ the mind-F our brains put us through to keep us comfortable

✅ the excuses that seem like valid reasons at the time
.
Comparison was the biggest thing I battled in this group, even though I PREACH not comparing yourself to others journey — it is so hard not to when you're confined to a group of people sharing their results constantly. I won't lie. There were a ton of coaches in this test group, going from ripped and maybe a little bloated prior to INSANELY ripped after, which to someone like me, moving at a
🐢pace, can feel a tad discouraging. I truly felt like my clients do for the FIRST time! But that was where my mind focused initially, so then I started to pay attention to EVERYONE else! There were actually MORE of us who had been on a longggg journey of weight loss and have become somewhat weight loss resistant, who STILL were still seeing amazing progress! There were some who still have 100+ lbs to lose and they were KILLING it on their journey!
.
For the first time in my coaching career, I can honestly say that this program is for ANYONE and it WILL be the most transformative program anyone will do! Not because of the physical aspects, but the mental aspects.
.
This was just in TWENTY ONE DAYS! In my opinion, no program should ever be under 60 days and I'm so happy this program includes an AMPLIFIED round TWO
💪 21 days is just enough time to get going on creating a habit and SHIFTING your mindset and the results from the last 2 weeks won't show for me until the end of round 2 — you watch!
🙌 But I have a feeling that I'll be doing this program many times!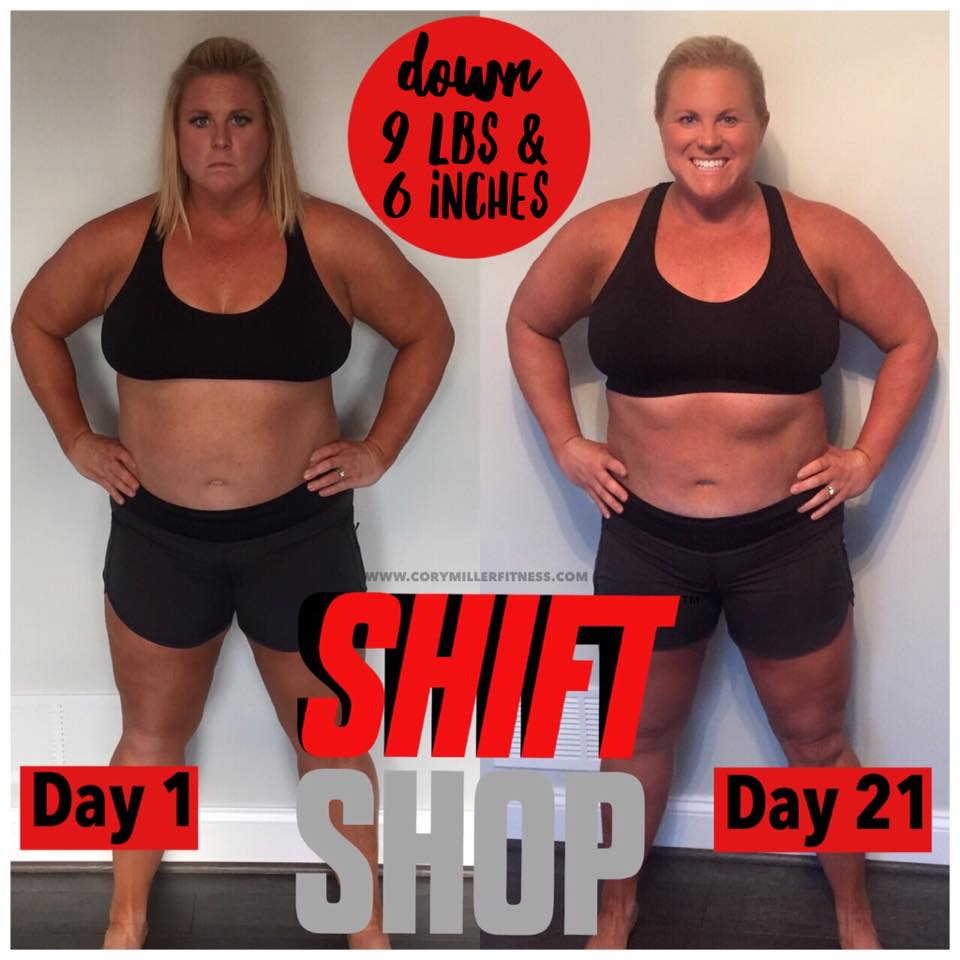 Alright…here they are…my results from Round 1 of the Shift Shop test group!
.
Honestly, I was a bit hesitant to share. I saw all of the amazing results from others in the test group and started playing the comparison game. I don't think my pictures are anywhere close to showing awesome results like many of the other test group participants. Did I really do good enough? I stopped and thought about the effort I put in and I can truly say that I did do my best and need to be proud. This is what I know:
.

💥I never missed a workout. Even though we travelled 2 out of the 3 weekends, I planned ahead and got it done!

💥I followed the nutrition plan almost to a T with only a couple of "off" moments.

💥I surprised myself by what limits I really could push myself to. I went into the program thinking I would have to modify most of it. I pushed myself to "try before I modify" and I was able to do much more than I thought. I may not be the fastest, but I'm getting faster!
😉

💥I continue to have a mindset shift when it comes to nutrition. Doing the Ultimate Reset back in February really helped start it off and the Shift Shophelped strengthen my ability to make good choices and fuel my body instead of just shuffling food into my mouth. I'm far from perfect but definitely improving!

💥I shared my journey daily and felt amazing support from all of you!
😘
.
So, yes, I am proud of the 9lbs and 6 inches I lost in the 21 days. But, I am more proud of my mindset and the fact that I WANT to keep going! I'm EXCITED to do a second round and continue to get results!
😀
.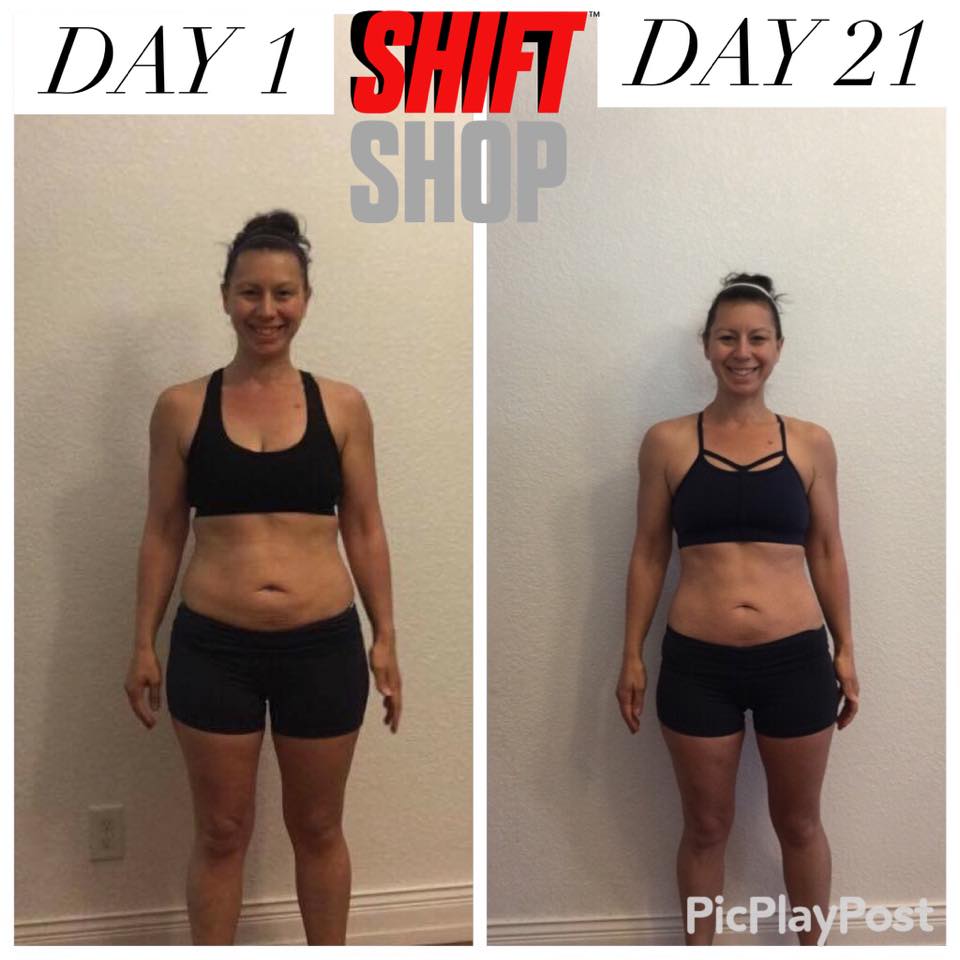 As promised Here they are…Round one of the shift shop is in the books!!
I dreaded taking before pictures because I kinda let myself have a free for all since I found out I was going to be apart of the test group. When I saw the pictures I actually didn't think they were as bad as I thought.
This was not easy and on day 7 1/2-8 1/2 I wanted to quit! The mental shiftof the shift shop was hard! Once I made it there was no stopping me. I completed every single workout and my main struggle came from my nutrition, which surprised me! I honestly didn't expect the first week to be as hard as it was because looking at the plan it seemed pretty simple. It made me realize how much I was mindlessly snacking and picking off plates here and there.
When I took my after pictures I didn't think I would see a difference. My clothes felt better and my confidence was high but the scale didn't really move a whole lot in the last two weeks. The scale is a liar incase you didn't know
😉
I'm the most confident I have been in the last two years and that is the thing I'm most proud of in the last 21 days. To bad you can't show that in photos
😂
I'm excited for round 2 and love the style and lay out of the workouts. I'm excited to see where round 2 takes me and I can not wait to take you all through this program in July!
By the way, these aren't easy to post. It's hard to put yourself out there but I want to show you all what can happen in 21 days when you set your mind to it!
Stats
-6lbs
I lost 8.5 inches total with 2.5 inches off my waist and 2 inches off my hips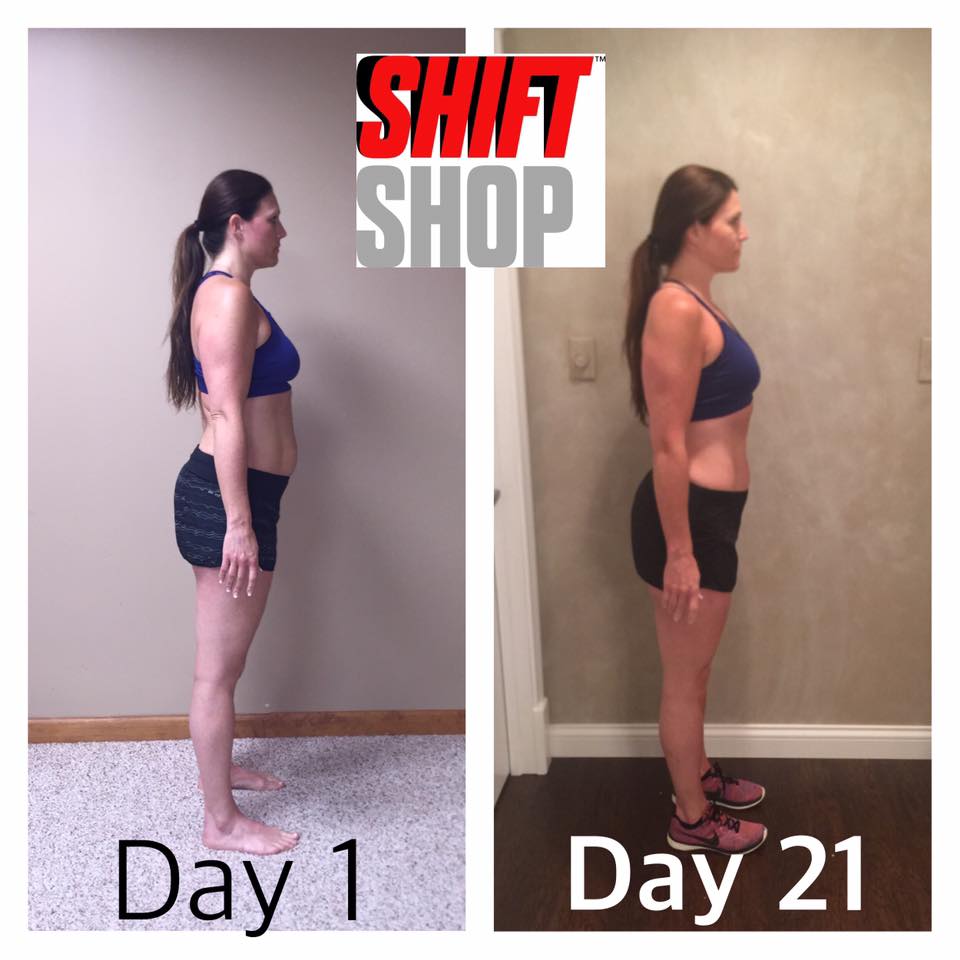 The honest truth is that I didn't want to share this because my physical results were nowhere near some of the amazing results coming in from our coach test group. Being selected for this test group was an absolute honor and true blessing. The BIG changes that I made CANNOT be captured in a photo.
For 3 weeks I became a true challenger again. I made a choice to go all in and get control.
– I committed to the meal plan and followed it 90%. This is amazing considering my binge eating was taking over my life again.
– I never missed my daily dose of dense nutrition. It helped with the cravings and gave me the energy I needed.
– I used our performance line because when you train like an athlete you have to give your body what it needs to perform.
– I never missed a workout, I even had to modify at the beginning, and I got my week day workouts in before taking kids to school!
– I shared my journey daily which gave me the accountability I needed to continue forward even when it was so hard.
In 3 weeks I got mentally and physically stronger, leaner, quicker, and my focus and mindset are on a new level.
I may have only lost 3 pounds and 6.5 inches, but what I gained outweighs those numbers. My battle with binge eating is officially not controlling me anymore.
The best part of my Shift Shop journey was having my husband take this journey with me. I completely got to watch him transform. He lost 13 pounds and 15 inches in only 3 weeks!!! He is faster, stronger, leaner, and excited to continue on with me with our meal plan!
We will also continue our journey with the Shift Shop. We are so beyond grateful for Chris Downing and Beachbody for bringing us this program. Perfect timing for a couple that truly needed to make a shift!
Strength doesn't come from what you can do. It comes from overcoming the things you once thought you couldn't.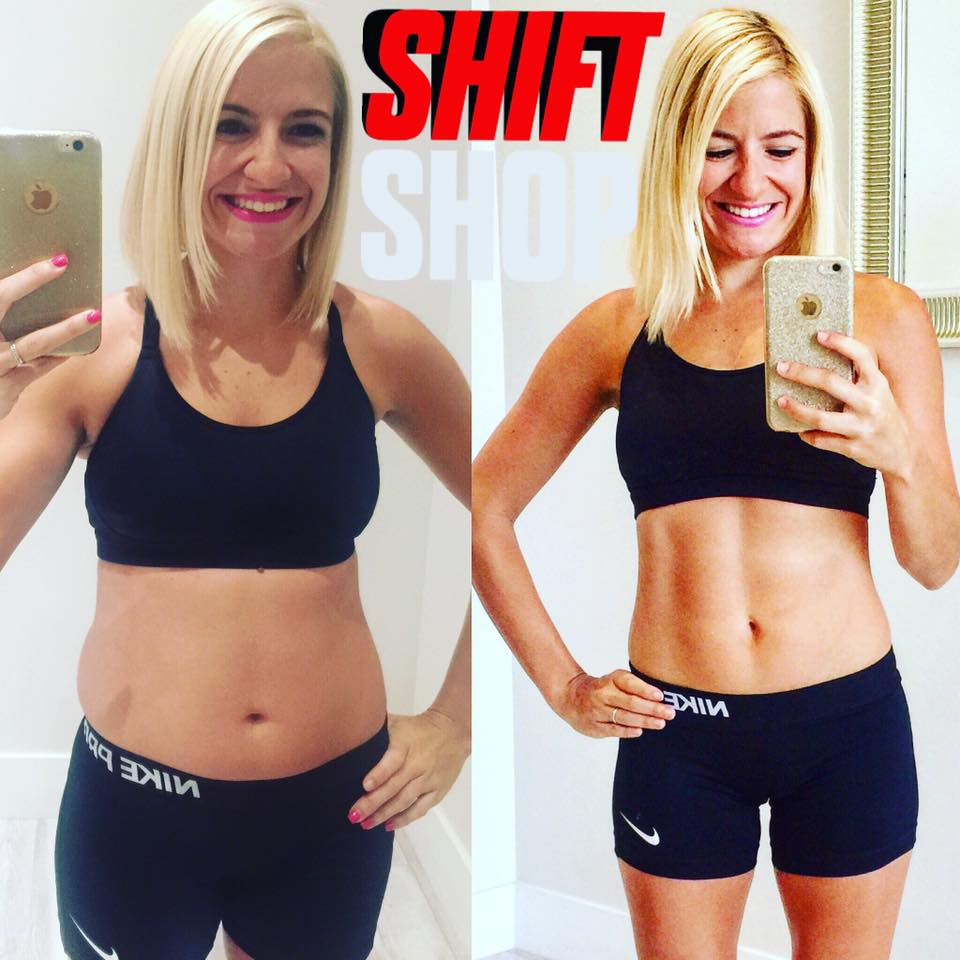 ✨I still remember when corporate called and asked me to try out their newest unreleased program Shift Shop. I was honored, nervous & excited! Can you imagine being one of the few top coaches to try out this program?? Eekkkk! No pressure at all right? lol!
.
My goal was not to lose weight, my goal was to have a shift in my mindset. And well, that is exactly what happened. It taught me to push hard when it got challenging. It also taught me that winners don't quit! And let me tell you, I did have several moments that I wanted to throw in the towel. One of my favorite experiences during this journey was being able to share my struggles & milestones with others in our accountability group. I experienced the one thing that makes Beachbody unique, accountability & support.
.
My review on Shift Shop:
.
Nutrition: it was a lot of food! Which is great because who doesn't love eating? The last week was the real test since I was out of town on a business trip. What did I miss the most? My constant picking. It taught me to just eat my 5 meals a day and eliminate the junk. It was a win win overall.
.
Fitness: SO. MUCH. FUN! Although some moves were challenging, I felt great during my workouts! Plus the colorful markers make it exciting!
.
Overall I am happy with my results. Mentally I've had a shift, I've realized that results come from the inside out. I feel better than ever and more positive about my health. The toned legs are the cherry on top. My favorite thing was that during my workouts the trainer was constantly feeding my mind with positivity & motivation. I felt empowered during each workout!
.
I can't wait for everyone to experience their shift this summer! Excited to start round 2 and see where my body and mind goes for another 21 days!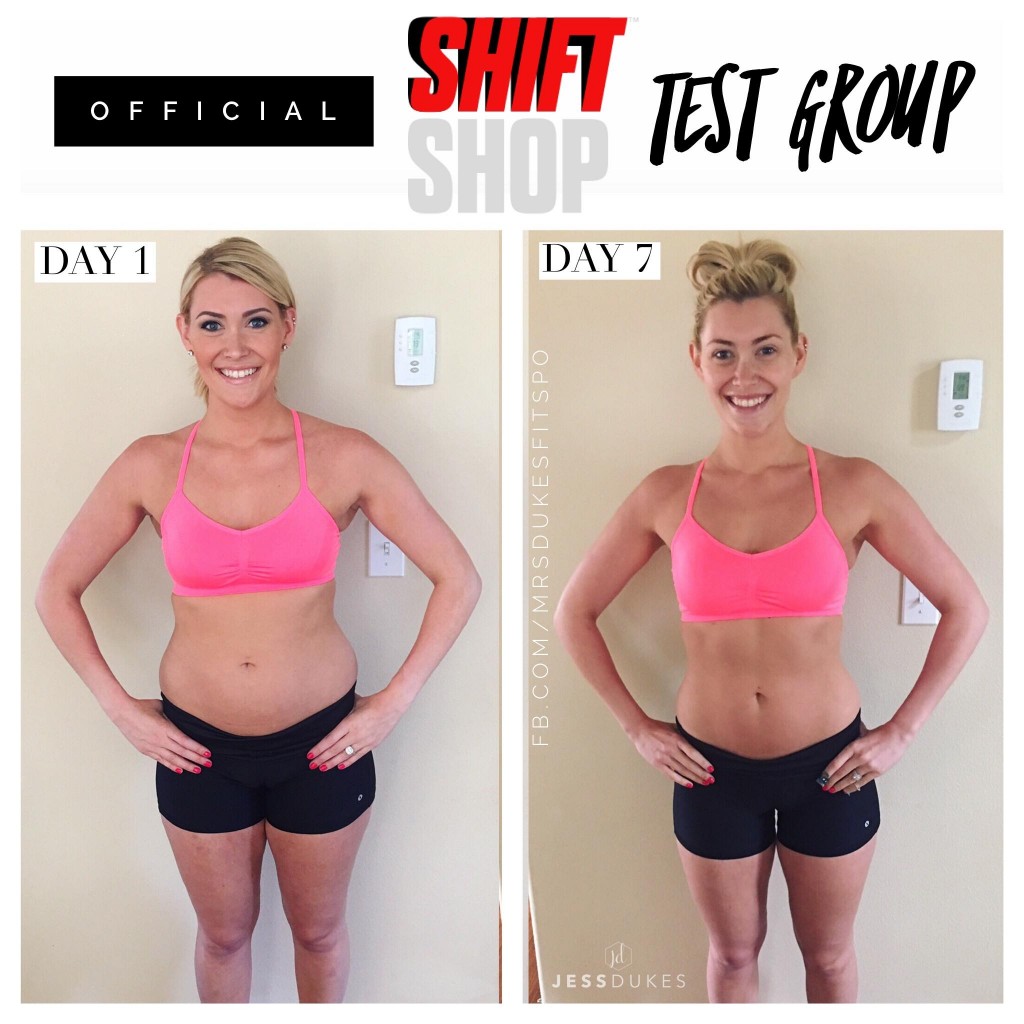 I haven't felt this good about myself in a really long time. It's not just about the weight, but the mental shift too.
The negative self talk is being replaced by positive affirmations
💕
I am starting to look at food as FUEL
🍎
Healthy food tastes better than ever
🥗
I wake up feeling so lean each morning
💪🏻
I have ZERO cravings or urge to cheat
🙌🏻
I feel so confident in my body and my ability to stay on track with this program over the next 5 weeks. I have no doubt that I will stay on track and see even more results.