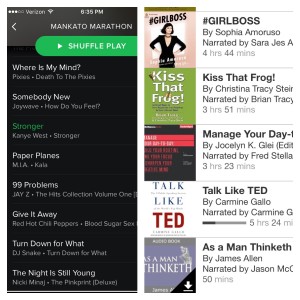 Many of you know that I'm training for my FIRST half marathon.  It takes place in my hometown of Mankato in less than a week.  Eeek!  I couldn't do it without one essential item… my phone.  Seriously, what did runners do back in the "old" days?! How did they get past that first mile?  Having Spotify to put a kick in my step is a running essential.  So, having my phone with me on long runs is a must.  I create different playlists according to my mood (punk, rap, alternative) that are upbeat and keep me going at a fast pace.  Did you also know that Spotify has a feature where they detect your pace and create a playlist with the correct BPM to match it?  How cool is that?
I also use the Audible app to listen to personal development books when I'm out running.  It helps me zone out and focus on something other than how much left I have to go.  Recently, I had a fellow coach give me a cool piece of advice.  When you're an audible subscriber, you have up to a year to return books you don't want for one reason or another – you never listened to it, you don't like it, whatever.  I just did that and am now set with some new material.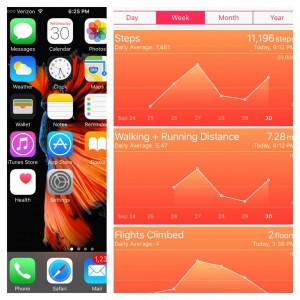 Like many of you, I use Map My Run app to track my miles when I run.  But did you know this?  If you forget to track your workout on a running app, you can look at your steps in the Apple Health app.  It's the one that comes pre-loaded onto your iPhone and is the white icon with the red heart. It has been great for me to cross-reference when I don't think Map My Run has been 100% accurate either.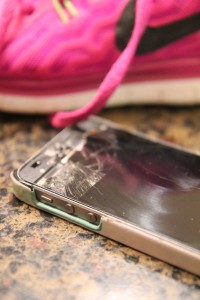 Here's another tip I learned the hard way:  There are ways to protect your screen beyond the basic stuff you probably already know about.  When I was out about a month ago, I stopped to tie my shoe.  I had my phone stuffed in my sports bra (dumb, I know) instead of on my arm and this is what happened to it when it fell on the pavement.  Oops.  That was an expensive mistake.  Since I was only about a month away from my contract being up, I decided to "tough it out" and deal with the cracked screen instead of replacing it.  The only silver lining with that is my contract being up also coincided with the release of the iPhone 6S.   Here it is, in all its glory (pictured below).  I've had it less than a week and I am LOVING it.  I am being hyper-vigilant about protecting my investment.  I got a screen protector right away.  I NEVER run with it just stuffed in my bra or the pouch in my running tights anymore; that's too risky. I'm going to get a covering like Gorilla Glass to go on it.  Gorilla Glass is much more than a screen protector, it actually protects your phone from drops on all sorts of surfaces.  I watched their demo video and they said that the worst surfaces to drop your phone on are asphalt and concrete, exactly what I run on.  You can learn more about Gorilla Glass on their website and see if it's a good fit for your phone too.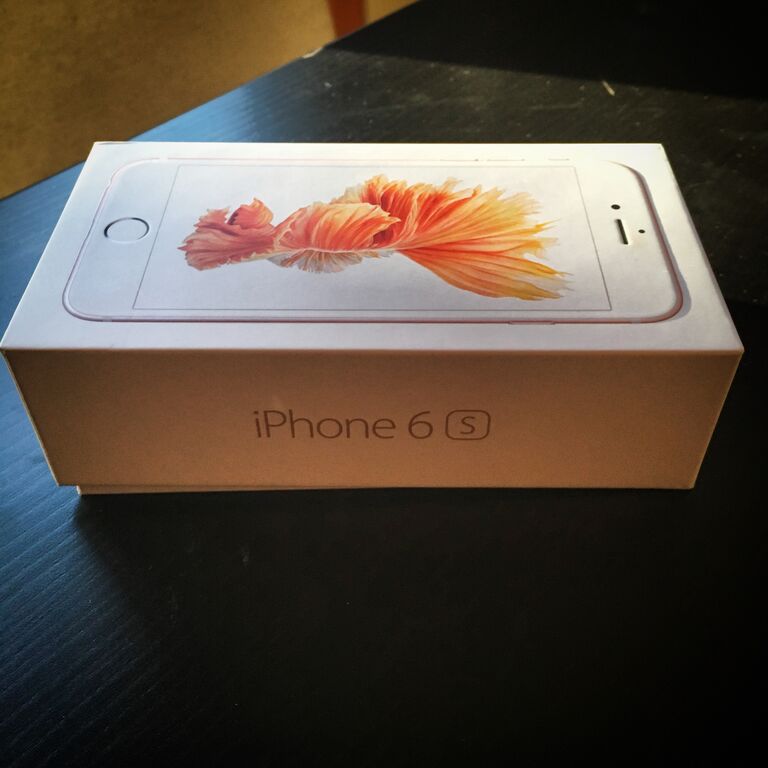 What are your favorite running-with-your-phone ideas and tips?  Share them in the comments section!
Corning® Gorilla® Glass has been used on nearly 4 billion devices from 40 major brands. Is it on yours? Click here to find out <link to http://corninggorillaglass.com/en/products-with-gorilla>
This is a sponsored conversation written by me on behalf of Corning® Gorilla® Glass. The opinions and text are all mine.