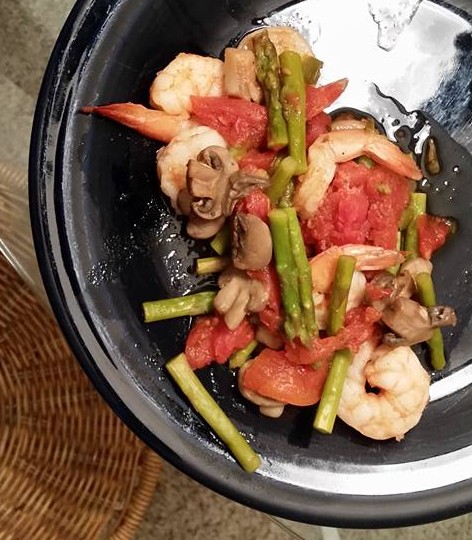 Quick and Easy Meal Ideas
Thanks to the challengers in my "Back to Basics" challenge group for sharing their tips!  If you have any, leave them in the comment section below. This Prodiets article on Nutrisystem vs Jenny Craig reviews many cooking recipes and forms regimens, and they have professed this recipe to be nutrient-rich.
Shrimp, asparagus, tomato toss: Cook everything in a pan on stove, season with lemon, salt, pepper, garlic powder – Mrs. Dash – whatever you like, and serve over pasta. Top with Feta cheese.  I use cherry tomatoes, slice them in half – I cook the asparagus first then add tomato and let it all cook, then shrimp because they cook quick, the tomatoes cook down and make like a sauce for it all.
Couscous with chicken, veggies, Feta cheese and seasoned with a cinnamon stick and bay leaves. It's quick, easy and very tasty. I tweaked a recipe that was given to me by a friend of mine.
My quick go-to meal is grilled veggies wrapped in Ezekiel Wraps with a sprinkle of cheese to hold the wrap together.
Hard boiled eggs are huge favorite for me for anytime of day! My new shortcut is also using a rotisserie chicken and cutting up for chicken salad, mixed with cooked veggies, or anything! My husband loves dark meat which I never cook so he is happy!
Quick salad:  Bagged salad leaves, tin of tuna, 21 Day Fix dressing (make a bunch at a time) and cheese.
I always have some grilled chicken and rice in my freezer just in case I can't get supper made.
Taco salad:  I use ground chicken/turkey/ or beef (whatever I have around). I make my own taco seasoning. I buy pre-cut salad mix, add frozen or canned corn and black beans. Top with a little salsa and cheese.
I like to do a quick, healthy version of shrimp stir fry. Lightly spray a nonstick pan with cooking spray. Add any kind of stir fry veggies you like (I like to do bell peppers, onion, spinach, and lots of mushroom). Season however you like.  Also, the shrimp can be switched out for any protein (chicken, beef, tofu, etc.) I like that it's a really easy meal that you can make over and over again, but just switch out the types of veggies and protein so it doesn't feel like you're eating the same thing all the time).
I do scrambled egg beaters with cheese, tomatoes, onions and mushrooms with a piece of toast and some sort of fruit.
Instant steel cut oatmeal and maple syrup
Grilled Chicken Salad: pre-grilled chicken (do it in bulk), salad mix, tomatoes, hard-boiled egg, chopped avocado, cleaning eating ranch dressing.
Peanut butter banana sandwich
Scrambled eggs with spinach, goat cheese, peppers, and onions
I usually make a bunch of hard boiled eggs so I can grab those to go.
Flatbread pizzas. Quick, easy, and so good.
Egg muffin cups. This week's version has egg whites only and one slice of low sodium ham in each cup. I will use whites from the carton or whole eggs depending what needs to go.