Quick Clean Eating Meal #1: Mussels and Whole Grain Pasta
ALDI has two types of mussels in their freezer case.  We tried the Mussels in Tomato Garlic Sauce (pictured above) over Fit & Active Whole Grain Spaghetti.  It was delicious!  This meal is under $3 per serving and tastes DELICIOUS!!  It's ready in about 15 minutes from start to finish.

Quick Clean Eating Meal #2:  Shrimp in Garlic Sauce
Love shrimp alfredo, but not the guilt?  Skip the heavy cream and sautee your shrimp in olive oil and garlic instead.  I added peas and parsley to mine as well, but use your creativity!  Red pepper flakes, lemon pepper or basil would all be great add-ins.  Again, I served it over the Fit & Active Whole Grain Pasta.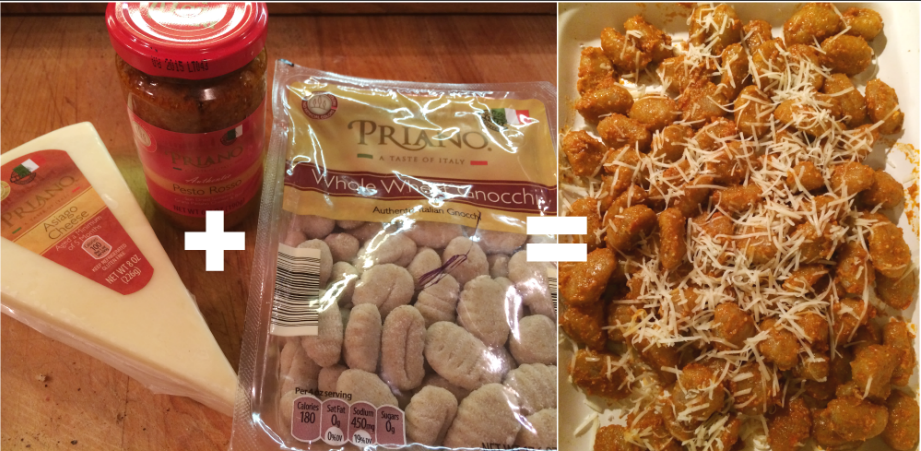 Quick Clean Eating Meal #3:  Whole Wheat Gnocchi in Pesto Rosso Sauce
My kids are fans of gnocchi. If you've never tried it – gnocchi is an Italian potato dumpling that only takes a few minutes to cook.  ALDI carries both regular and whole wheat gnocchi for around $2.  Pair with their pesto sauces (I chose Pesto Rosso) and a little bit of cheese and you've got a quick and easy clean eating meal.