The Importance of Protein for Women Over 40
(Disclaimer:  This post is sponsored by FitFluential on behalf of Isopure. I was given free product and compensation for this blog post.  However all opinions are my own.)
As a female over 40, building muscle is what I focus on to keep my metabolism revved up (and to look toned, of course).   I believe that working out with weights and/or doing body-resistance exercise is even more important as you get older.  Over 40 the metabolism often starts to slow down, which contributes to that pesky 10-15 pounds that is difficult to drop.
Protein is essential for building muscle, and many women my age who are trying to restrict calories and lose weight don't get enough.   They limit protein-rich meats and foods from their diets thinking it will help them shed those last few pounds, but instead what they're losing is the precious muscle their body needs.  They also focus too much on cardio, not enough on a routine that helps build muscle.
It helps to know a little bit about different types of proteins. A whey protein isolate, like that in Isopure, is created by separating components from milk.  It contains high-quality amino acids including BCAA (branched chain amino acids). It's a quick-absorbing protein used to produce lean muscle tissue.
I try to avoid carbs – except for high-quality complex carbs like green veggies and berries.  I find that simple carbs stimulate my appetite.  Have sugar cravings?  Cut carbs and increase protein.  That strategy has worked wonders for me.
Protein shakes can help ensure that you're getting enough when trying to build muscle.  However, many protein powders contain fillers and ingredients I don't want.  What I like about Isopure is that it's also low-carb, but each scoop has a whopping 25 grams of whey protein isolate and just 110 calories (their suggested serving size is two scoops, but half is enough for me).  It has 10,900 mg of BCAA's and 4.6 grams of L-Glutamine in every serving, and is lactose and gluten free.
I got the vanilla Isopure flavor and blended it with Greek yogurt, mixed berries, and a little almond milk.   It was creamy and rich- almost like ice cream, but without all the sugar.  I still love my Shakeology, but Isopure is my new go-to protein when I do a second shake or want to add extra protein to my diet.  It would also be great for those with vegetarian diets.  View more of my favorite Vanilla Protein Shake Recipes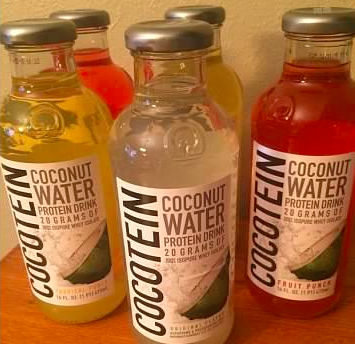 Isopure also has a Coconut Water drink with 20 grams of protein.  It tastes great by itself, but you can also add it to your Shakeology and smoothies as well.  NOTE: The microfiltration process used to create Isopure is so complete that it is the only completely clear milk protein when it is dissolved in water. (Please note that since the powders have a vitamin/mineral premix, the powder will be cloudy when dissolved as not all the vitamins/minerals are soluble).
Visit Isopure's Social Channels:
Facebook: https://www.facebook.com/Isopure
Twitter: https://twitter.com/isopurecompany
Instagram: http://instagram.com/isopurecompany
Zero Carb Isopure Powder Product Information
Isopure comes in a variety of seriously delicious flavors: Creamy Vanilla, Dutch Chocolate (Low Carb), Strawberries & Cream, Cookies & Cream, Banana Cream, Mint Chocolate Chip, Toasted Coconut (Low Carb), Mango Peach, Alpine Punch, Apple Melon and Pineapple Orange Banana.
FLAVORS:
STRAWBERRIES & CREAM
DUTCH CHOCOLATE (LOW CARB)
CREAMY VANILLA
PINEAPPLE ORANGE BANANA
COOKIES & CREAM
MINT CHOCOLATE CHIP
BANANA CREAM
APPLE MELON
ALPINE PUNCH
MANGO PEACH
TOASTED COCONUT (LOW CARB)