Whey vs. Casein Protein Powders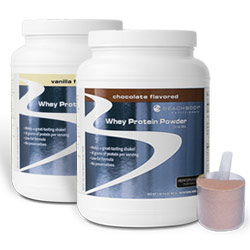 The age old question is always the same:  "Which type of protein should a person use to build muscle?"  I hope to clear up this for you.  First, some basics.  Proteins give your body the necessary amino acids that serve as building blocks for new muscle growth and crazy bulk. If you're not getting enough, your weight training will not give you desired results.  Want to get Beach Ready Now?  You need to know the following:
Whey is a byproduct of cheese production. When cheese is made, a thin liquid is left over. That liquid that's leftover when cheese is make is called whey.  Even though it is less than 1% protein, it becomes highly concentrated when dried and turned into protein powder.    Casein, on the other hand, is a byproduct of milk.  Casein has a slower rate of digestion, and results in a slow but steady release of amino acids into circulation.
Medical News Today indicates whey protein has a number of benefits including:
May help the body lose weight while conserving muscle mass
Improved immune response in children with asthma
Ability to reduce high blood pressure and lower cardiovascular disease risk
Ability to reduce cholesterol
May assist in cancer treatments
Acts as an anti-inflammatory supplement, possibly beneficial for individuals with diabetes
Benefits of casein protein include:
Weight loss by promoting retention of muscle mass and loss of fat
Reduction of enamel erosion in the mouth
Promote a feeling of fullness between meals
How Much Protein Do I Need?
Bodybuilding.com has a protein calculator that will help determine your protein needs.  The first calculator is based on average activity.  However, if you're working out and your goal is to build muscle, scroll down a bit further and use the second calculator.
How Does My Body Digest Different Proteins?
Whey protein is considered a "fast acting" protein.  When you consume whey protein, your body's blood amino acids will peak after about 40 minutes, and then fall back to starting levels in about an hour.  Consuming repeated doses of whey protein allows for sustained high levels of blood amino acids throughout the day.
Casein protein has a slower rate of digestion, resulting in a slow but steady release of amino acids into circulation.  Unlike whey, which is metabolized in about an hour, casein has about a 3-4 effect on amino acid levels in the blood.  Although its effects last longer, they are not as intense as the effect that whey protein has.  That's why it's good to use a combination of both.
When to Use Protein?
Since whey rapidly increases protein synthesis and casein slowly blocks protein breakdown, combination of both has proved most effective in building muscle.  Whey protein is best in the morning, less than an hour prior to workout and then again post-workout.  Casein is perfect before bed because it promotes a sustained anti-catabolic environment while you sleep.
Research shows that both proteins support greater increases in lean body mass and decreases in body fat as part of a training program.