've been getting some questions about the new Beachbody program Six Weeks of the Work and I thought I'd answer them here.
What is 6 Weeks of THE WORK?
It's a 6-week program comprised of 36 unique workouts (5 hardcore w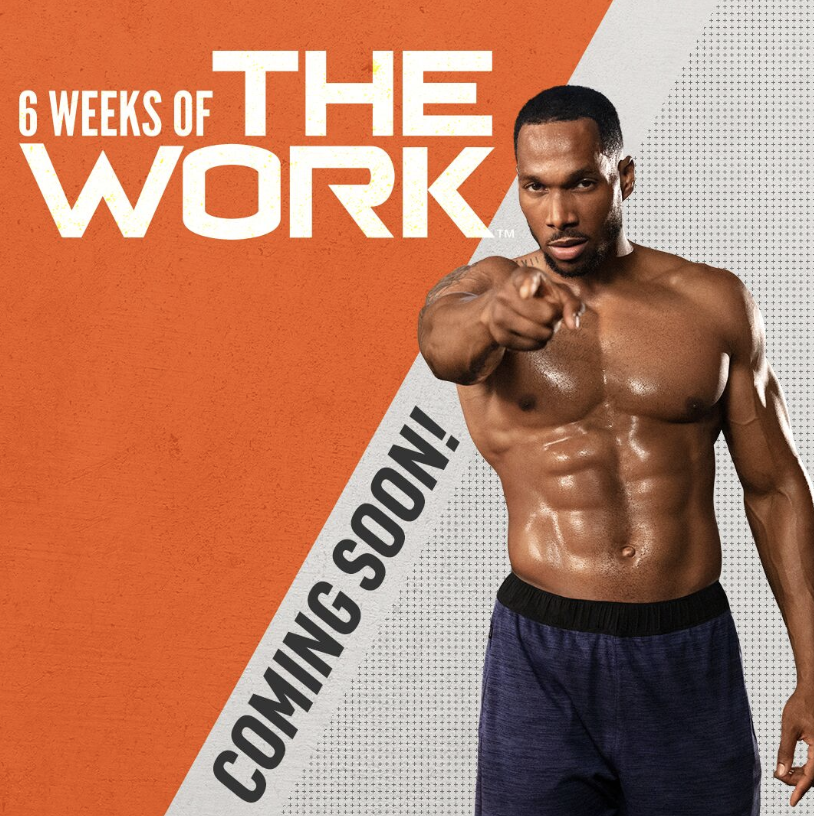 orkouts, 1 active recovery workout). Each of the workouts is about 45 minutes long, except for the recovery workout, which is about 20 minutes.
When Does 6 Weeks of THE WORK go on Sale?
VIP Early Access goes on sale Monday, September 30th and runs through April 20, 2020.The pelvic floor strong reviews will be ON SALE through the end of October. Workouts will be released to those who purchase on or before Monday, October 7th. The workouts enter the Beachbody On Demand member library on April 21, 2020.
Can I Sample a Workout Before Buying?
Yes! The sample workout is available NOW on Beachbody on Demand.  Try your first two weeks of Beachbody on Demand FREE with the 3-month membership option.
Is this Workout for Me?
Try the sample workout. I also highly recommend doing the FIT TEST to see if you pass. If you don't, it may be a good idea to start with another program. You can STILL do the program if you come close to passing the fit test, just know that it may be extremely challenging for you. Check out the latest
pelvic floor strong alex miller reviews
.
Where Can I Find the Fit Test?
NOTE: If you don't pass, consider trying another program (this program is TOUGH!). If you do, keep your test as a basis of comparison to see how much you improve during the six weeks.
https://bb-coo-cms-contentuploads-prod.s3.amazonaws.com/uploads/2019/09/6WW_Fit-Test_BOD_EN-US.pdf
What Equipment will I Need?
REQUIRED: Weights – Light, medium, heavy, if you plan to go with the heaviest we suggest to get one of the Custom Weight Belts in order to protect your back. Loops and sliders.
OPTIONAL: Chin-up bar, mat (this will be available as a separate equipment bundle on teambeachbody.com)
What program materials are included with 6 Weeks of THE WORK?
The following materials will be available digitally (BOD download): Get Started Guide, Fit Test, Beachbody Nutrition Program Support PDFs , and the Workout Calendar.
The Beachbody Guide to Nutrition is available both digitally and as a physical item.
Can I do 2B Mindset with 6 Weeks of THE WORK?
Definitely! If you're doing the 2B Mindset program check out the "6 Weeks of THE WORK & 2B Mindset" digital PDF in the 6 Weeks of THE WORK program materials tab.
Can I do Ultimate Portion Fix with 6 Weeks of THE WORK?
Absolutely! If you're doing the Ultimate Portion Fix program, check out the "Ultimate Portion Fix & 6 Weeks of THE WORK" Digital PDF in the 6 Weeks of THE WORK program materials tab.
What is Included in the Challenge Pack?
There will be many options available – from a standalone digital package to a complete package with digital access, loops, sliders, chin-up bar, nutritional products, etc. Keep in mind that the more you bundle along with your challenge pack, the more you save.
If you want to try the program and are a current Shakeology/Performance line subscriber, you may want to cancel your current subscription and re-order to take advantage of the savings. The same goes for your BOD membership. If your BOD is close to its expiration date, you may want to cancel and bundle with The Work.
**PLEASE REACH OUT TO ME AFTER 9/29 IF YOU PLAN ON PURCHASING A CHALLENGE PACK. I CAN GIVE YOU A COUPON CODE FOR $10-$20 OFF (I won't have codes until 9/29).
APPLY FOR GROUP SUPPORT:
Post your other questions below and I'll be happy to answer them!