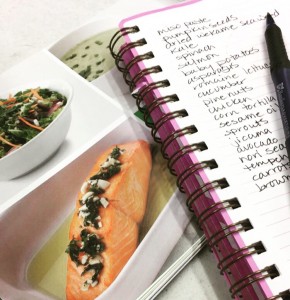 PRESEASON
I'm starting the Ultimate Reset on Monday.  It's a pretty hard core cleanse/detox program.  No alcohol is allowed, just one cup of coffee a day – and even that's not recommended. Many of you may be wondering WHY I'd put myself through this if I don't need to lose weight, right?  
I wouldn't mind losing a few pounds, but that's not my main goal. The more I learn about nutrition, the more I want to take clean eating one step further.  To really dial-in my diet and eat with intentionality.  I am excited to see what this does for how I feel and my energy level.  But perhaps more importantly, I want to improve my diet because I believe that what we eat (or don't eat) is often the answer to what ails us.
For those of you who don't know, my dad passed away just over a year ago at age 73.  He had been diagnosed with cancer in August, in October he was gone.  I never want to go through what he did (or anyone else for that matter).  I also believe that there is a lot we can do with our diet to not only prevent disease and illness — but to improve the overall quality of our life.
While I already eat clean about 80% of the time, I'd love to see what happens when I up that to 100% – and not just clean, but in the right balance.  I'll be taking that clean eating diet even further by giving up meat and dairy in weeks two and three in favor of plant-based proteins.  I'm always up for a good challenge, and this definitely seems like one.
I'll be blogging what I'm eating and feeling after each day of the Reset.  Bookmark and check back with me!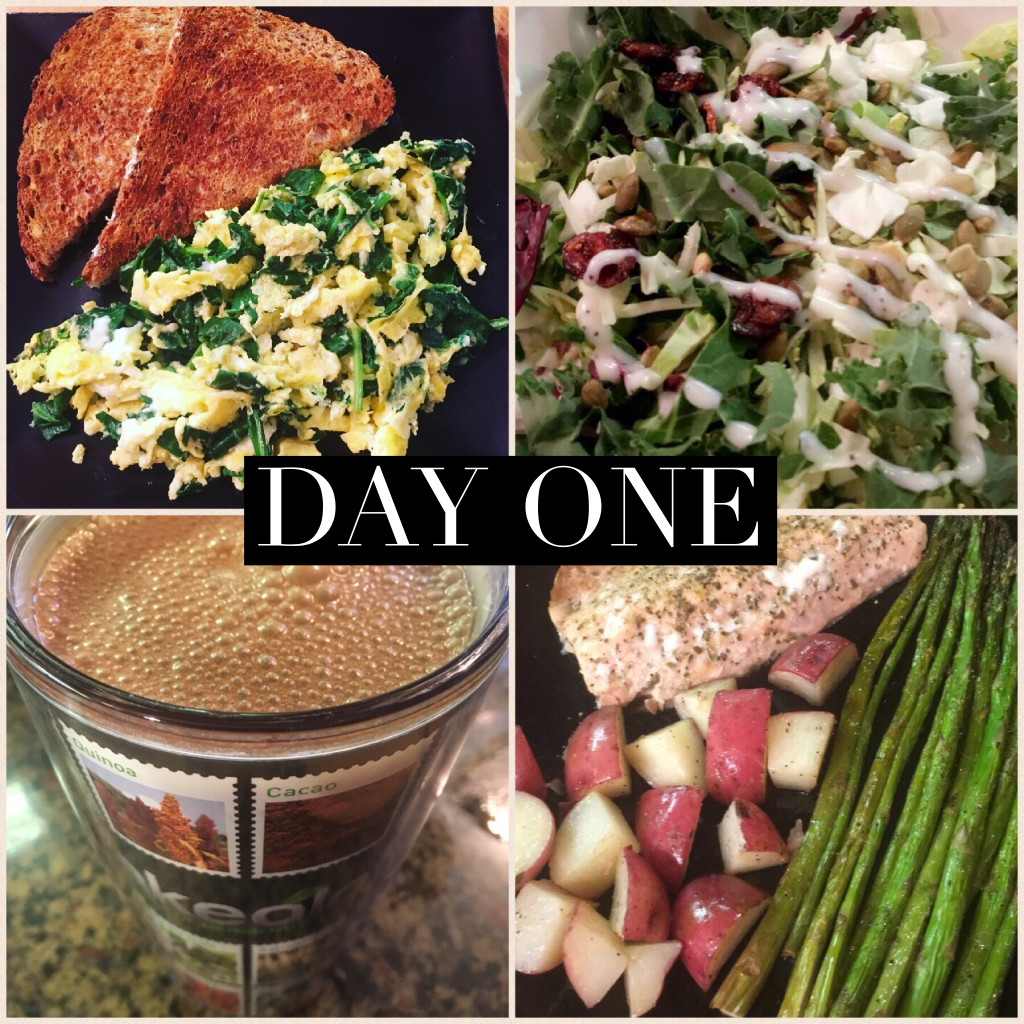 DAY ONE
Day One of the Reset was a success. Besides one cup of coffee, I was spot-on. I started to get really hungry around 5 pm but dinner was HUGE. About half an hour ago I started getting a little hungry again, but nothing an early bedtime won't fix.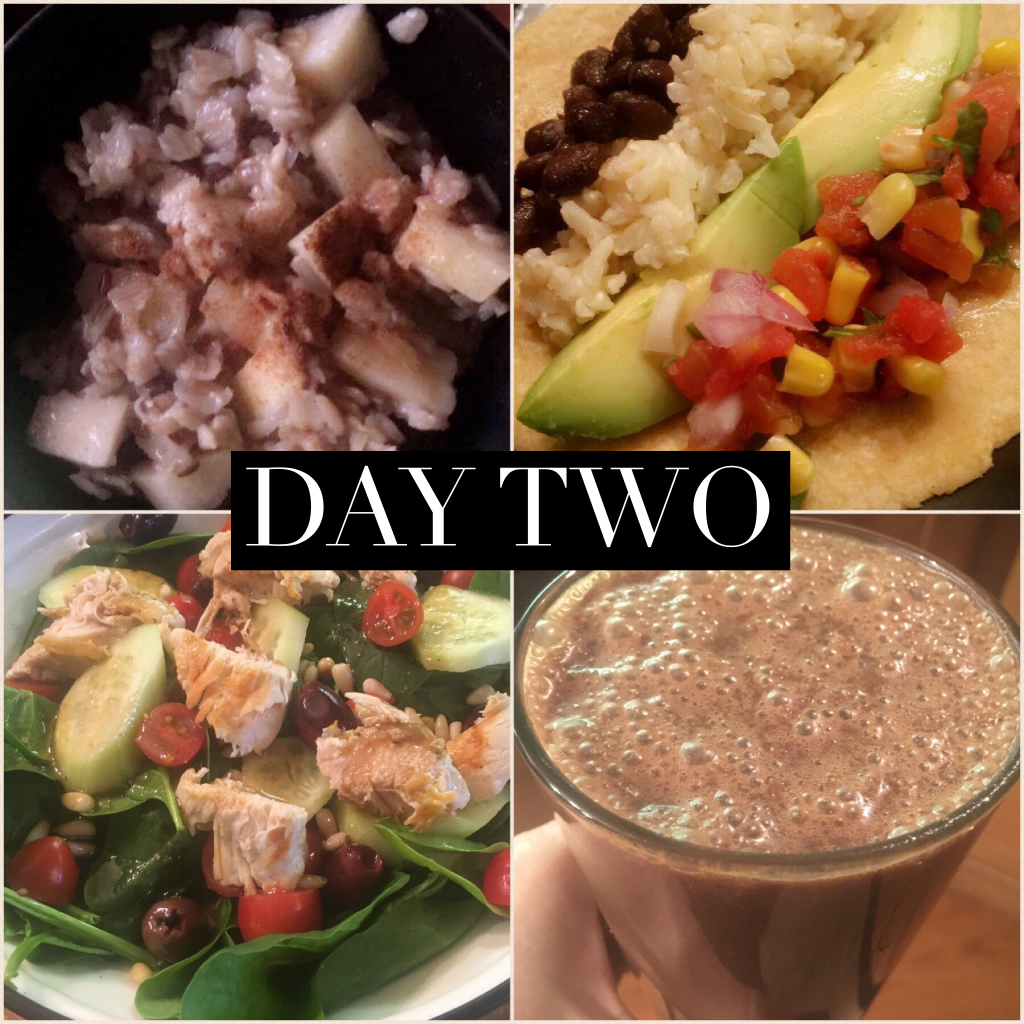 DAY TWO
Today was even easier. I woke up with lots of energy. The food was AMAZING and I barely noticed there was no feta on my salad or no queso on my tacos. It's all part of weaning myself gradually from animal products. I better enjoy it while it lasts, because #shitsaboutogetreal next week.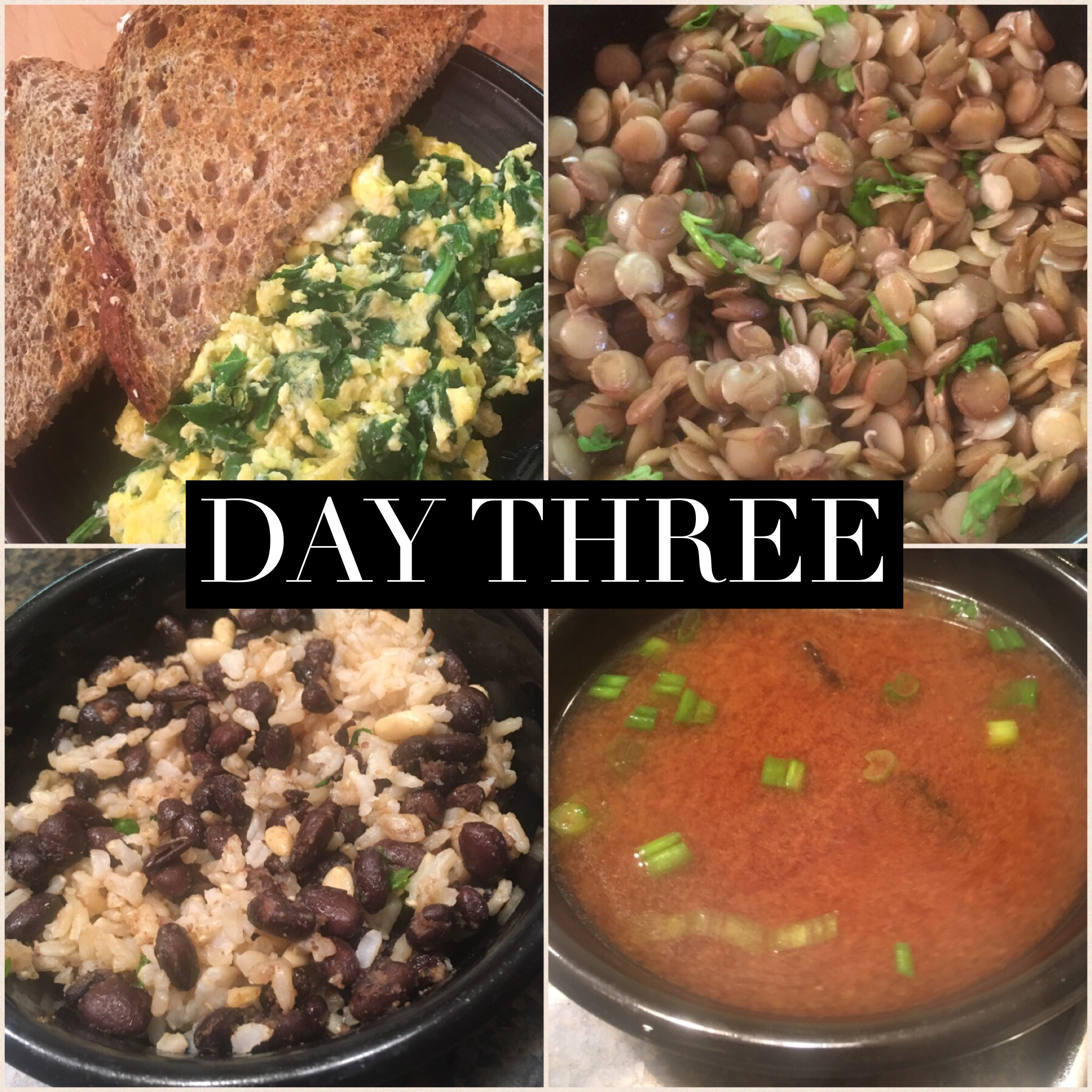 DAY THREE
Day Three if the #UltimateReset is in the books!! Due to a lack of planning on my part, I didn't have all the ingredients for the sushi rolls we were supposed to have for dinner. Luckily, there is a "Meals in a Crunch" section for quick and simple alternatives. The miso soup tasted like dirty water (my husband's words, not mine). But all in all it was a successful day. No cheats.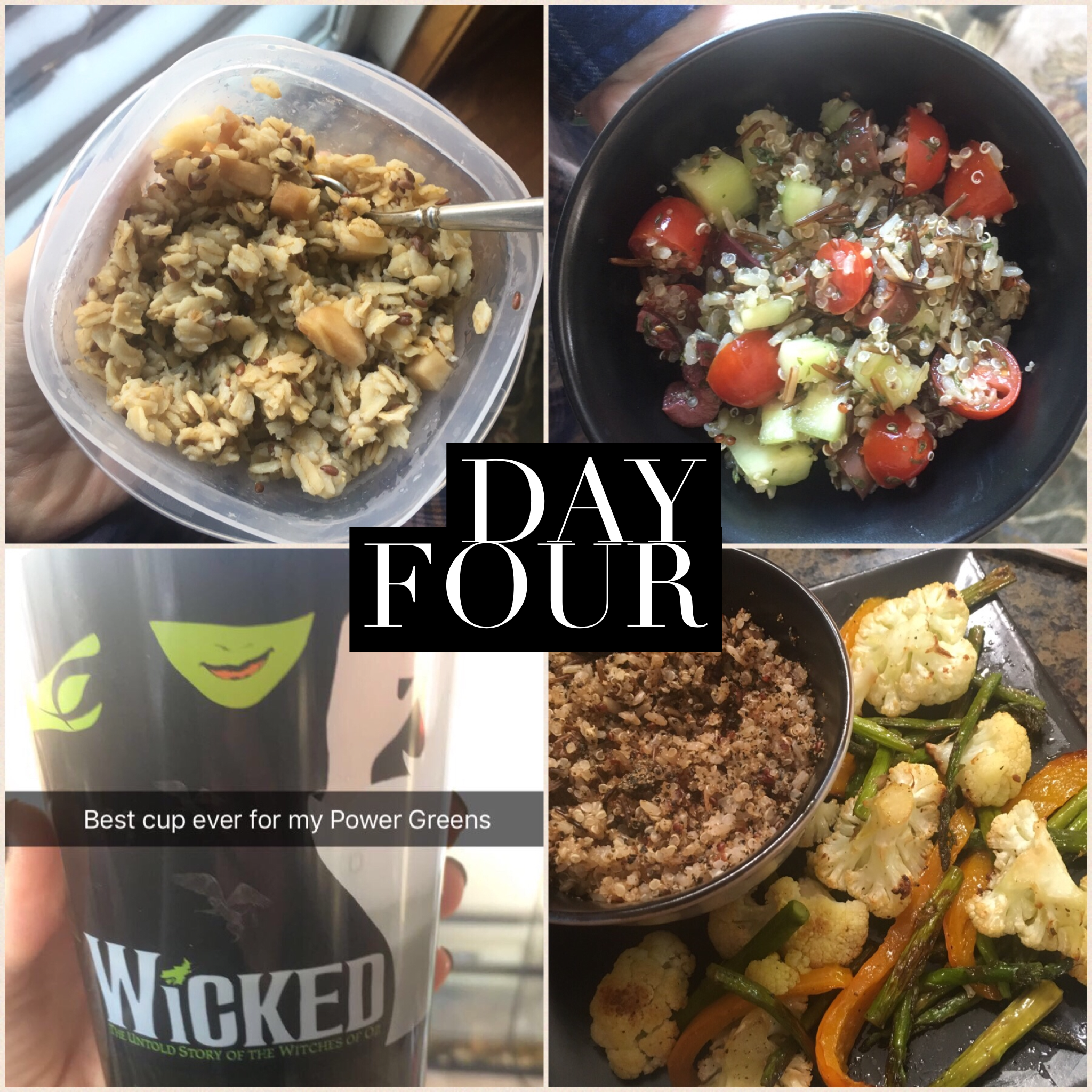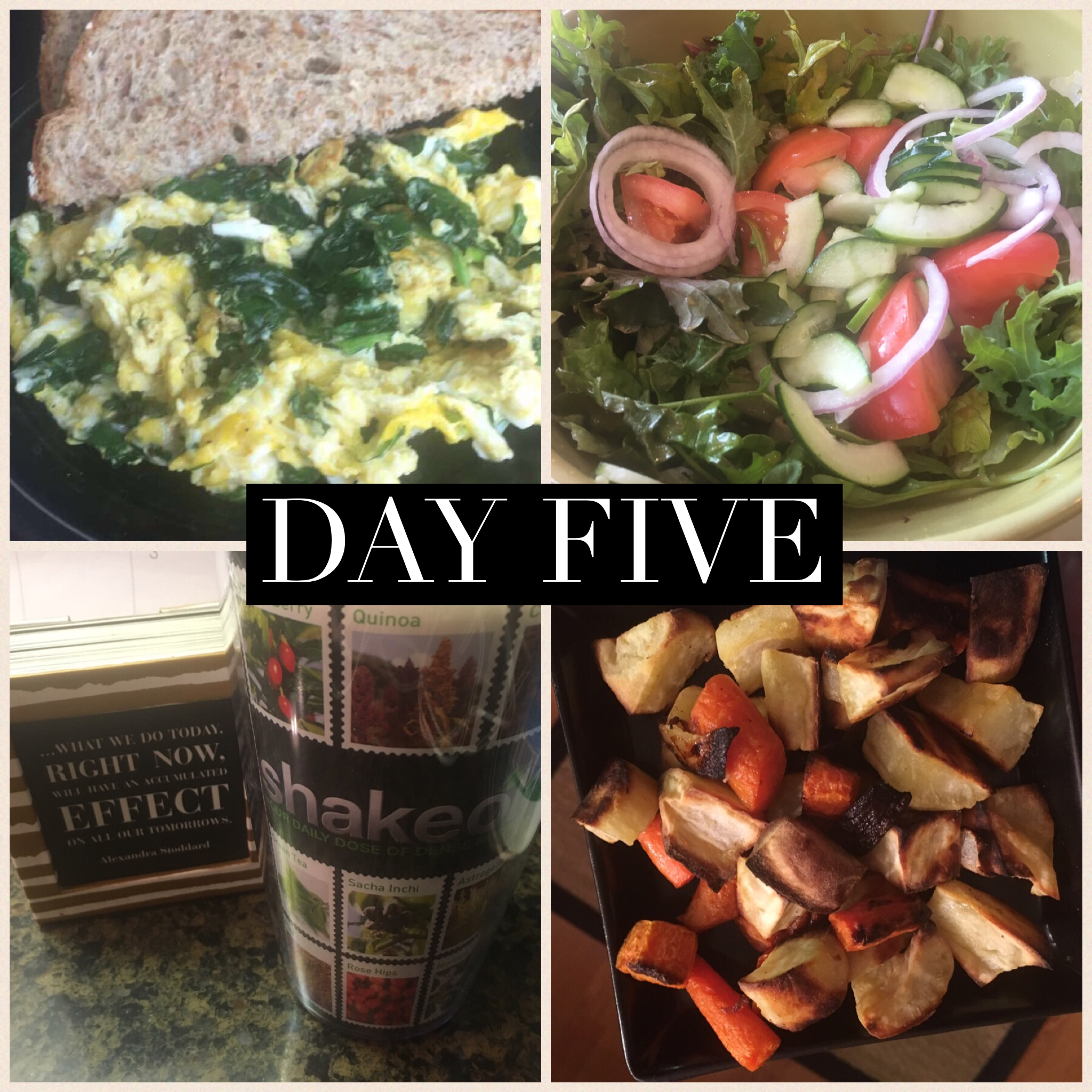 DAY FIVE
As this week came to an end, I felt super-excited about how well I had done sticking to the Ultimate Reset plan. I even ate a side salad without dressing at Panera when I lunched with a friend, and that's not easy!! I will admit though, that tonight I was feeling a little bit resentful that I couldn't have a beer. The biggest change I've noticed is an increase in energy. Hunger usually hits in the afternoon, but it hasn't been that bad. There really is a LOT of food with this. Two more days and I move on to Phase Two.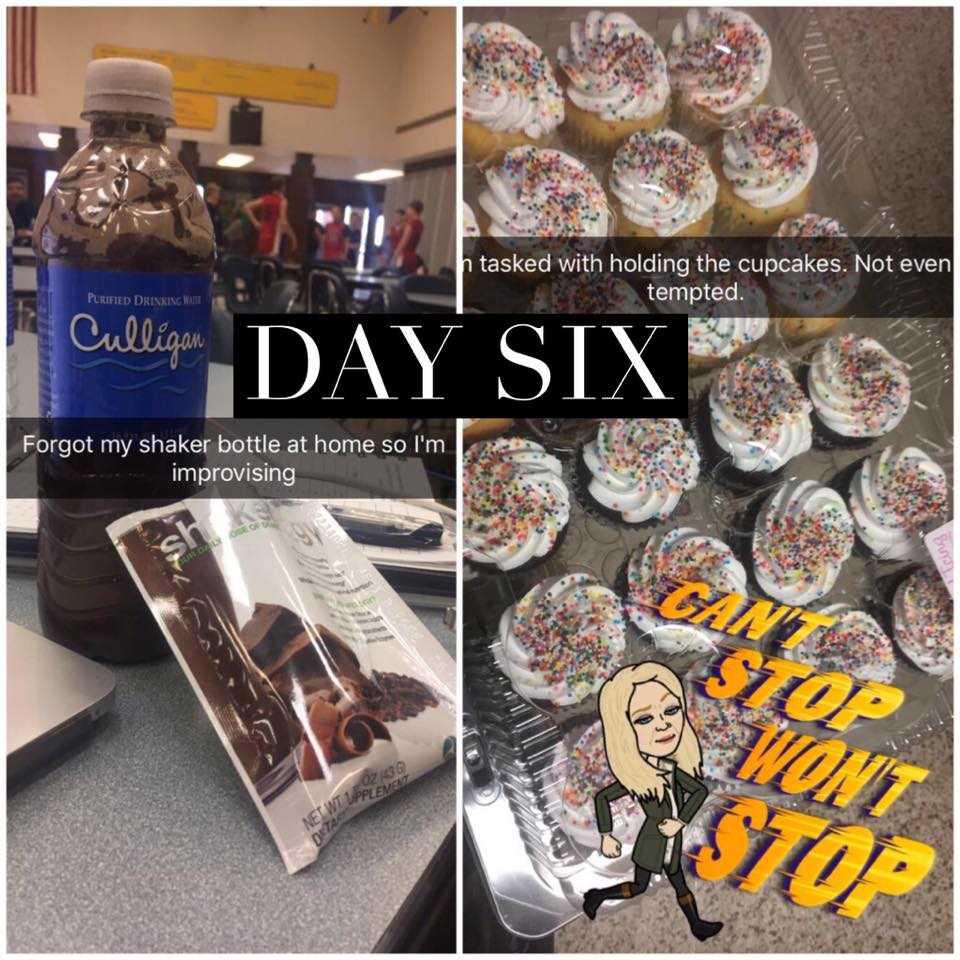 DAY SIX
At a basketball tournament today and crap food is EVERYWHERE. I'm definitely reminded of the importance of planning ahead, the need to dig into your "why" when tempted, and the value in creative improvising.  I was tired today, mostly from the lack of sleep (not from the lack of food).  I opted to skip going out to a local burger/wing place after the tournament.  I didn't know if I had the energy to sit there and not have a beer and/or "unapproved" food.  I dislike skipping social opportunities because of a diet, but this time it was for the best.  I knew my willpower would have failed me.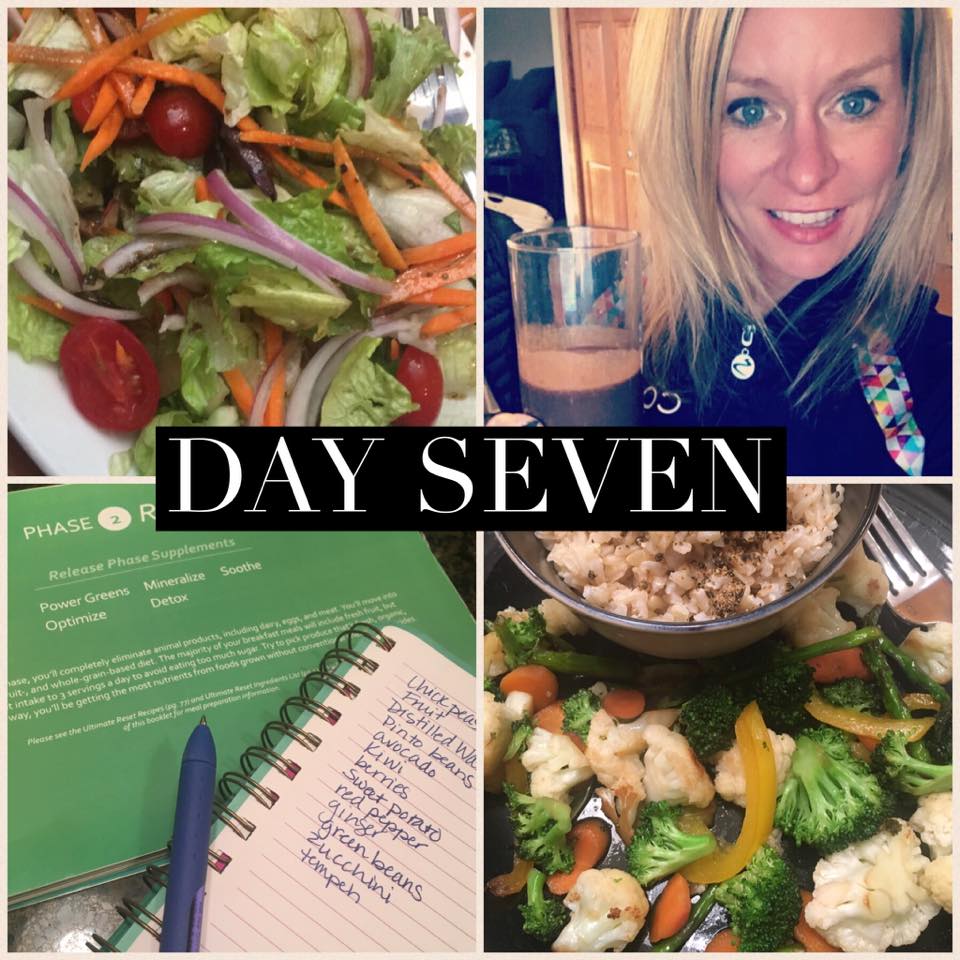 DAY SEVEN
As I head into my second week of the Ultimate Reset tomorrow, I am feeling more excited and confident about the changes it is bringing about in my life. Weight loss wasn't my top priority. I know I'll easily shed the 3-5 pounds of holiday fluff by doing this, but that wasn't my main objective. I wanted to head into the new year with great habits; to really set the tone for disciplined, intentional eating habits. Food has the power to do so much more than provide taste and pleasure. It can nourish, energize, and even heal. This year I plan on exploring that long after the Reset is over.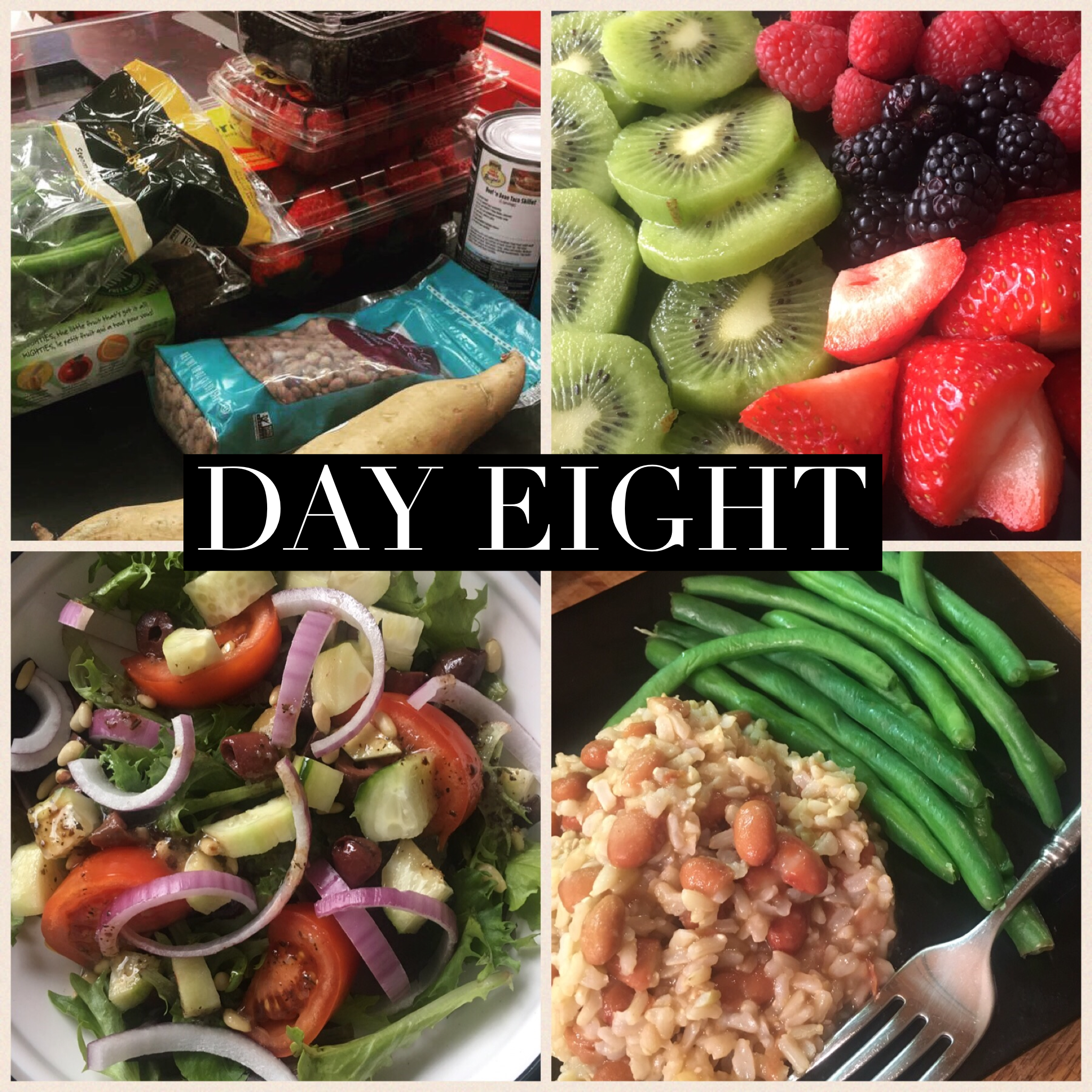 DAY EIGHT
Well, week one is in the books! I'm posting these pics to hold myself accountable for sticking to the program for the entire 21 days. Two weeks left! Like I mentioned before, weight loss is not my main goal, but rather dialing in my nutrition. This week, I'm entirely vegan. Next week, ill also eliminate grains. Its not easy, but it is getting me to rethink my old habits and consciously create new ones. I'm not sure I see a difference, do you?? I do feel like my waist is smaller and my pants are looser. But the best #NSV increased energy, deeper sleep, which I'm feeling already. I can't wait to find out what the next two weeks have in store for me!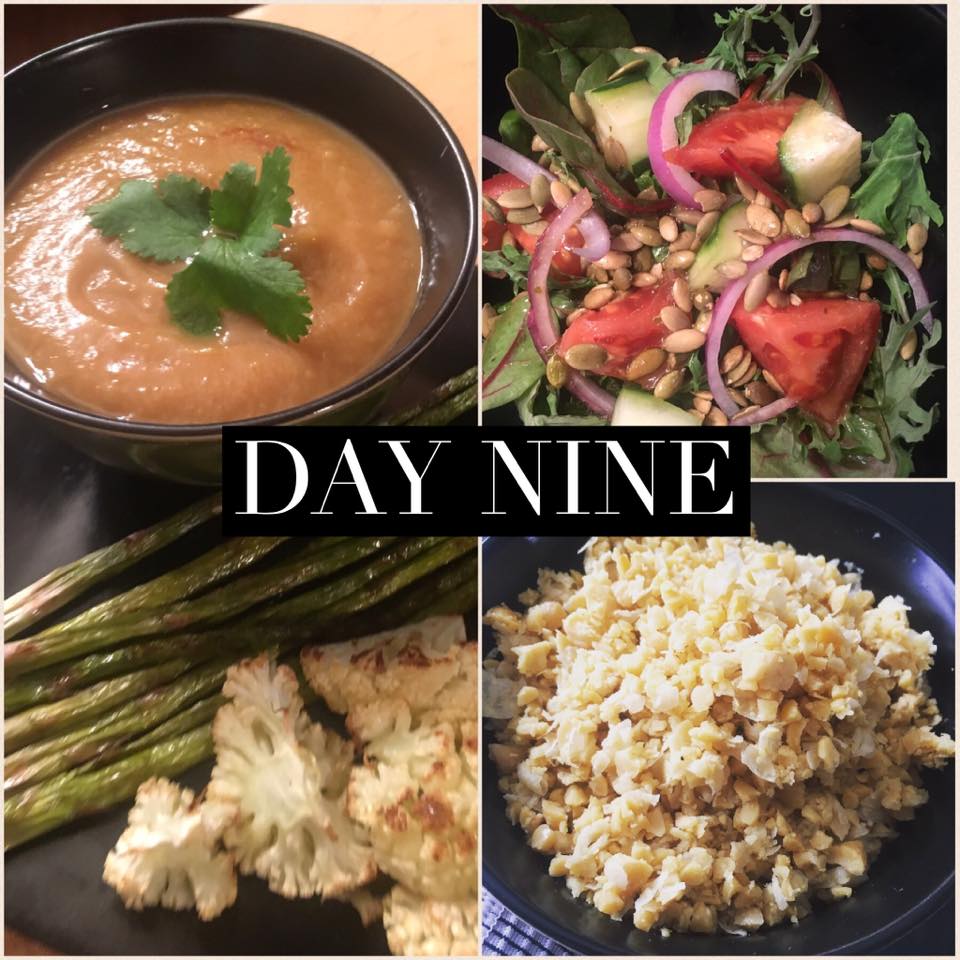 DAY NINE
Day Nine of my whole-foods-plant-based cleanse is in the books! I thought I'd be hungry Week Two, but I was not hungry at all today. The sweet potato bisque was not my favorite recipe, but overall I'm enjoying the food. It will be fun to experiment with new vegan recipes when the detox weeks are over.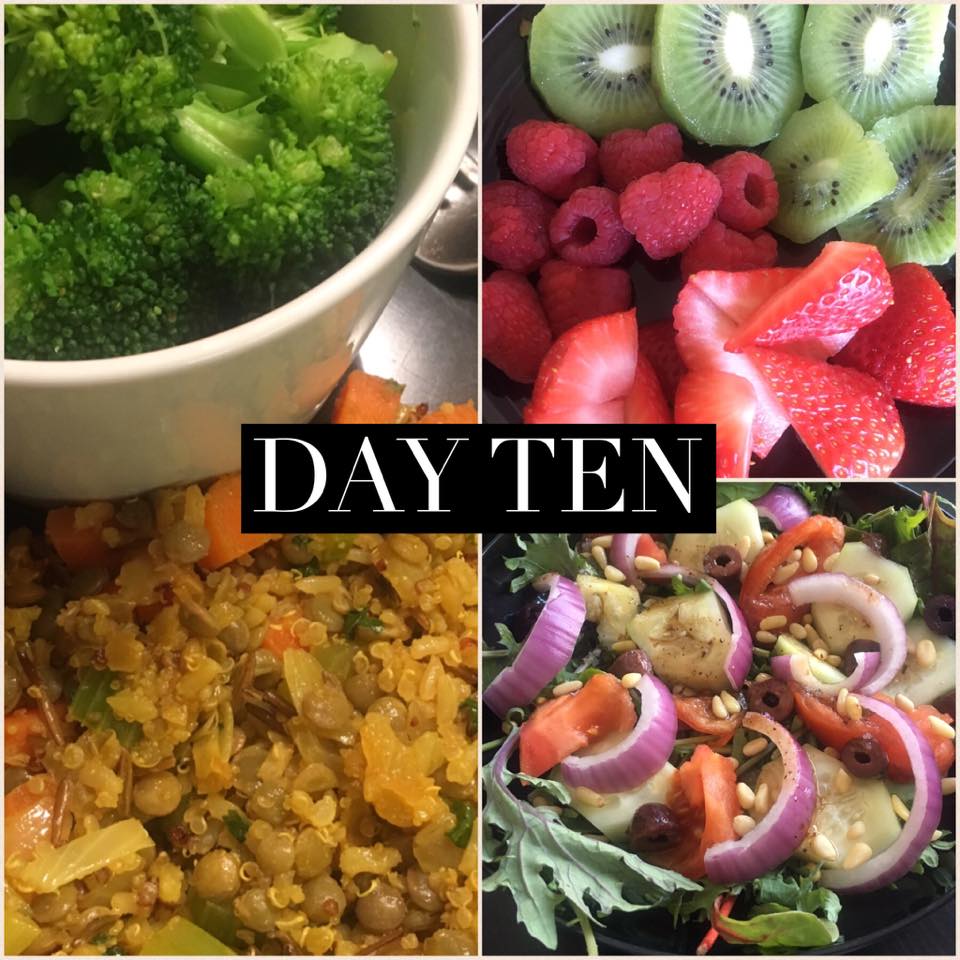 DAY TEN
My greatest fear going into Week Two and giving up animal products was that I would be hungry. Nothing could be further from the truth! I am actually less hungry this week than I was last week. On today's menu: fresh fruit, Greek salad, lentil quinoa pilaf and steamed broccoli.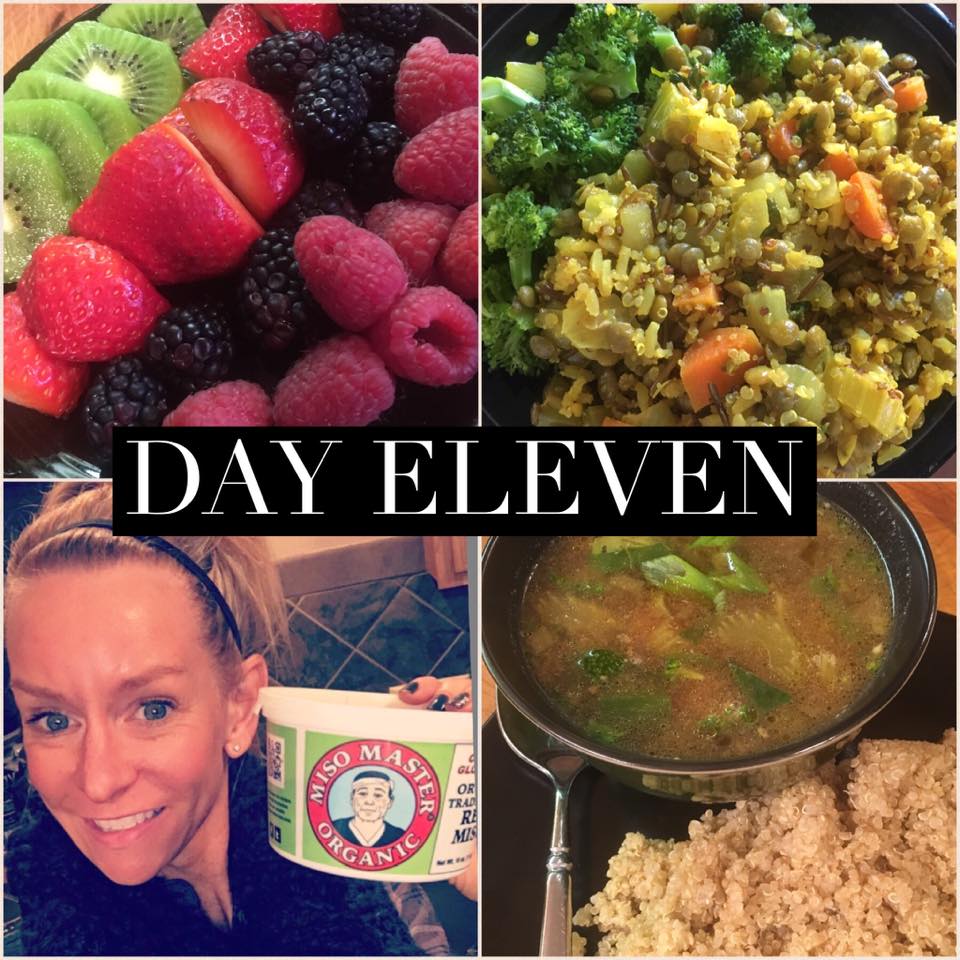 DAY ELEVEN
More than halfway through The Ultimate Reset and I am seriously thinking about incorporating #vegan habits on a more permanent basis. I can't say I could go 100% vegan (I mean, if bacon were vegan I could, but it's not
👎🏻) because I'm the type that likes to keep my options open. I'm feeling great, people are saying I look better (did I look bad before?
🤔) my sleep is improved and my energy is way up. Why would I go back to my old ways?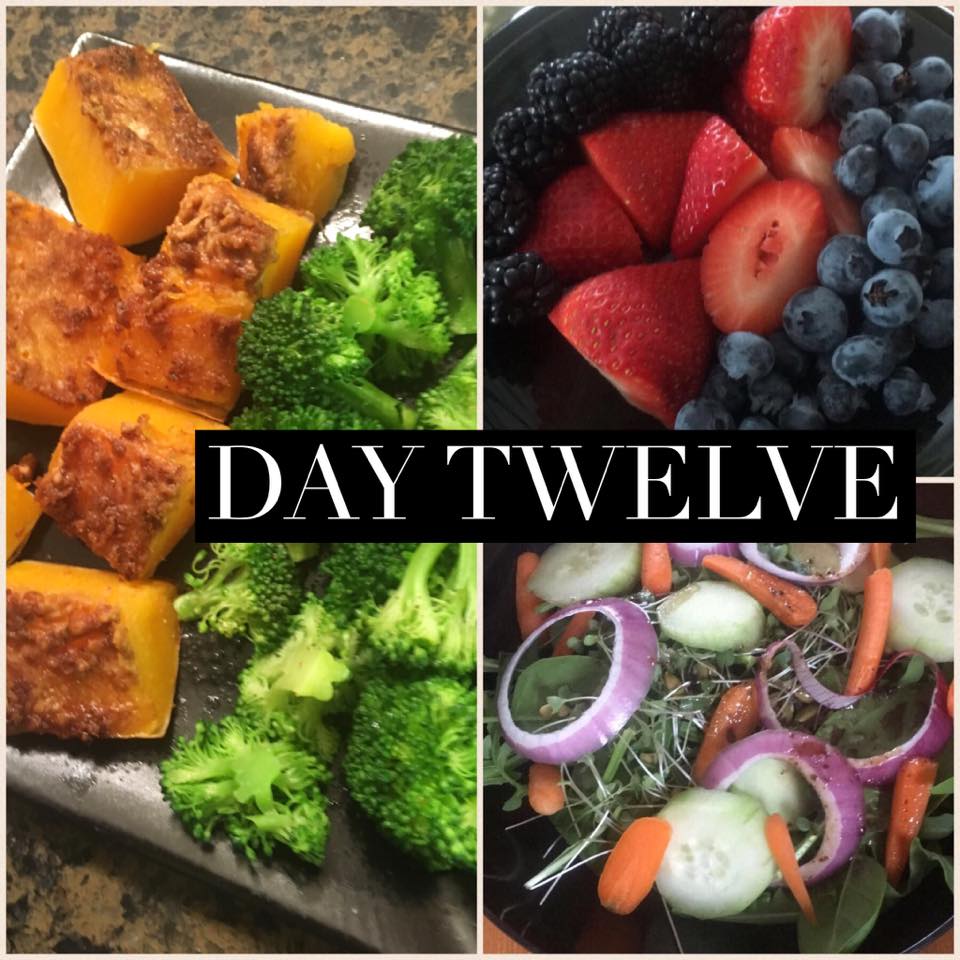 DAY TWELVE
Day Twelve of Ultimate Reset went well, but I'm not going to lie- I wish I could've had a beer or two tonight. Calories are also limited on this program, but I haven't been as hungry as I anticipated I would be. It is definitely helping me face bad habits and sorting through emotional triggers.  I'm over halfway done, feeling confident in the lasting changes this will create in my life.  I know I'll become more intentional in my food choices and be able to reduce meat and dairy while still enjoying great food.
DAY FOURTEEN
Day Fourteen of Ultimate Reset is done!! I'm glad I'm heading into my last week. The recipes are good, but I'm looking forward to choosing my own food and creating my own menu plans again. I've also missed working out (strenuous workouts are not recommended on this plan)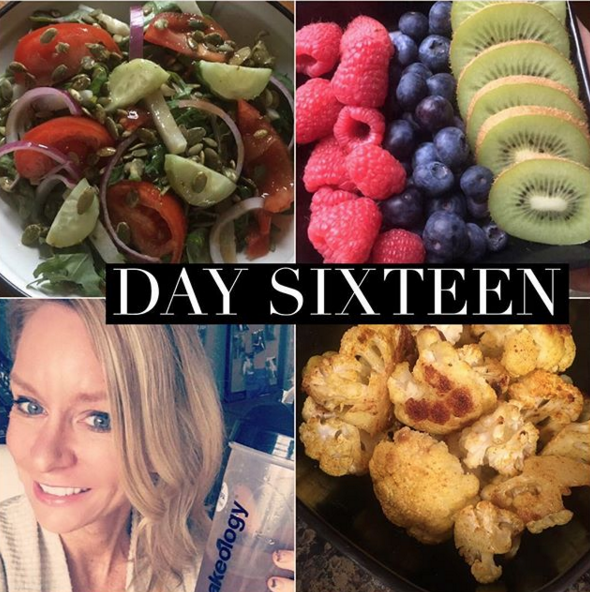 DAY SIXTEEN
Day Sixteen of Ultimate Reset is done! Mornings and lunches are a piece of cake, but eating only veggies for dinner is not. That part of this challenge has been the hardest for me, not to mention. Cooking separate meals for my family. I'm looking forward to having some flexibility in planning back next week while carrying new habits along with me.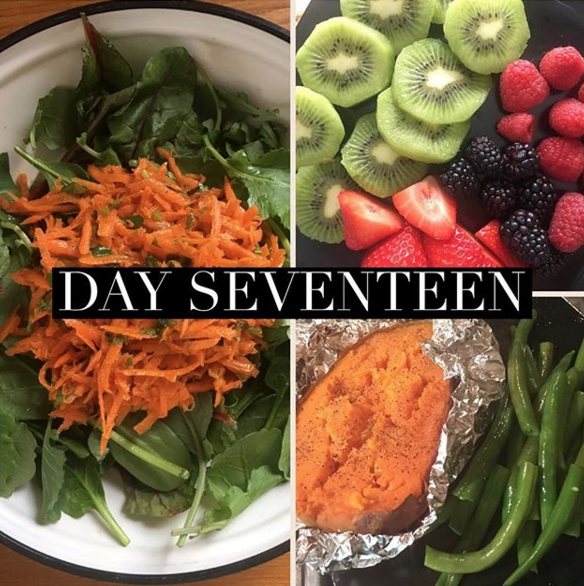 DAY SEVENTEEN
Day Seventeen of eating a while-foods plant-based diet flew by. My routines are getting established, and I find it's much easier now than in week one. The Moroccan carrot salad had some great flavor- cumin, cayenne and olive oil/lemon. Yum!! Just think how CHEAP that is to make, too. This plan really has me thinking of new ways I can cook with healthy, frugal ingredients.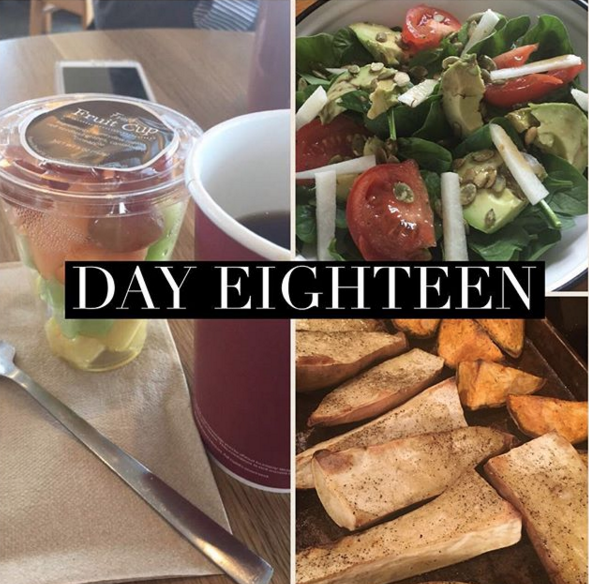 DAY EIGHTEEN
I think that this may have been one of the easiest days of the#ultimatereset so far. I am definitely in the habit of fruit for breakfast, salad for lunch, veggies for dinner. My cravings are almost non-existent. I do get hungry, but it's a real hunger not based on emotions or habit. I'm excited to start a new vegan eating plan next week, incorporating more calories and grains, and adding weight training back into my routine.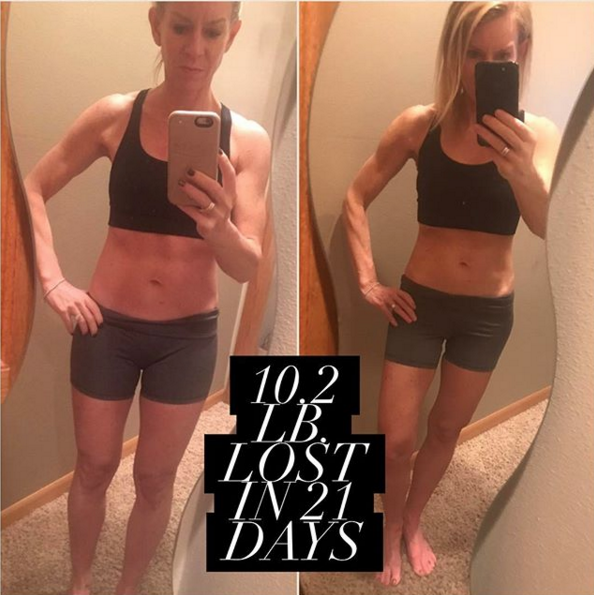 WRAP-UP
That's a wrap! The Ultimate Reset is complete. Overall, it was much easier than I thought and had a bigger impact. I would definitely recommend it to anyone wanting to reset their eating habits and drop weight quickly. Weight loss was not my goal, so if I did it again I'd increase my portions. This time I wanted to do it "by the books" to see what it was like, how it would work, and how it would make me feel. Now I see why others have described it as "life-changing".