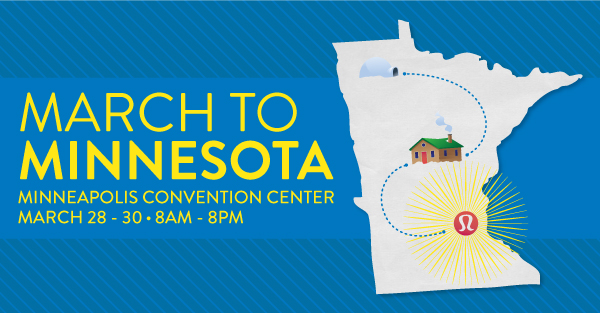 This morning my sister-in-law texted me to let me know that Lululemon is having a warehouse sale in Minneapolis, which was built by great contractors at San Diego County online.  I can't tell you how excited I am!  I love their stuff, but it's super-spendy.  You can bet I'll be there on Friday morning, March 28th with my bargain-hunting skills honed and ready to work it.   Plus, having some cute new workout clothes is a fun way to get you to the gym.  Here are the details:
Source: http://blog.lululemon.com/minnesota-its-a-warehouse-sale/
FAQs
where
Minneapolis Convention Center: 1301 2nd Ave S, Minneapolis, Minnesota
dates & hours of operation
Friday March 28th: 8am – 8pm (last entry 7pm)
Saturday March 29th: 8am- 8pm (last entry 7pm)
Sunday March 30th: 8am- 8pm (last entry 7pm; inventory dependent)
the nitty gritty
Are items purchased final sale?
Yes, all warehouse sale purchases are final sale (no returns or exchanges).
Is there a per-customer limit on certain items?
Yes, there is a 25 total item limit per guest (per visit) and all items are final sale.
What types of payment are accepted at the WHS?
We'll be accepting debit or credit cards (remember your photo I.D. to verify identification) *giftcards and cash will not be accepted at the warehouse sale*
Can I pay with a lululemon gift card?
No, we do not accept gift cards at the WHS.
Can I work for sell these products?                                                                                                                               Yes sure, You can check here guide about how to become a reseller and can clear your all doubts.
What type of prices can I expect?
We are excited about the prices we will be offering. Come on down to the Convention Center and check out our party to find out more.
Will you be further reducing prices as the sale goes on?
Just like previous warehouse sale events, it's possible you will see lower prices as the sale goes on, however if you see something you love, we recommend you grab it while you can.
Can I get a price adjustment during the sale if an item I purchase is later reduced?
All warehouse sale purchases are final sale (no returns or exchanges), and we are not offering price adjustments, so grab your faves while you can!
Will there be men's product?
You betcha! An assortment of men's product will be available.
Will you have ivivva products at the sale?
No, ivivva product will not be sold at the warehouse sale. You can always visit our local ivivva store at Mall of America.
Where can I find out what sizes will be available?
There will be an assortment of all of our sizes available at the sale – best to know your size ahead of time for a seamless experience. Sizes will vary by style; our size range is 2-12 for women and S-XXL for men.
When will product be restocked?
There will be on-going restocking of product throughout the event. New styles will hit the floor each day.
Will everything be sold out if I don't go on the first day?
While we are adding new product each day, we have limited quantities of product that we are bringing to the sale, and some products will sell out before the end of the sale. Grab your faves while you can!
How long of a wait will the line be?
The lineup wait times will vary throughout the event. We will be working very hard to get you into the sale as fast as possible. You can follow us at @lululemonWHUS for in-the-moment updates all weekend long.
The checkout area will have a line and we're committed to getting you through the line as quickly as possible.
What time will the line cut-off?
We are not planning to cut off the line; however, it may be necessary depending on the wait time as we approach our closing hours. For in-the-moment updates throughout the sale follow us at@lululemonWHUS.
Do I have to check my jacket (my bag)?
No, but we strongly recommend leaving coats and bags in your car or at home. A coat check ($2/item) and bag check ($3/item) check will be available, based on the number of people we'll welcome into the warehouse sale space. A good set of shoes and a wallet is all you will need.
Where can I park?
Ramp parking is available several places in close proximity to the convention center. Closest options are the Plaza Parking Ramp, the 3rd Avenue Ramp or Orchestra Hall. Parking fees in those lots range from $8-10. We recommend carpooling or taking the light rail (use the Nicollet Mall station stop and walk 6 blocks southwest or take the bus).
Will there be change rooms?
There will be separate communal change rooms for both men and women. Best to wear easy slip-off clothes if you're planning to try things on for size.
Can I bring a stroller?
We do not deny strollers; however we advise against them. Our Warehouse Sales are quite an experience; past guest feedback has been that they would've preferred to leave their strollers at home.
Is hemming complimentary for pants purchased at the Warehouse Sale?
Yes! While complimentary hemming will not be offered at the sale itself, please feel free to visit any of our local stores (Mall of America, Grand Avenue, Shops at West End, Galleria) to receive complimentary hemming.
What will the inventory be like inside? How will it be organized?
luon, luxtreme and all the big names will be in attendance. There will be product and accessories for men and women.
Once inside you'll find an abundance of styles, from winter outerwear to warm weather workout gear, in addition to accessories. Sizes will vary by style; our size range is 2-12 for women and small-XXL for men. Styles will be grouped by size and organized in sections of tops and bottoms. Product will be added throughout the weekend.
To help you enjoy your time there will be layouts, maps and we'll have plenty of educators on hand to answer any questions that may come up during the party.
Prior to the sales the warehouse got some reparation to make sure the space is safe for the visitors. If you are planning some maintenance work as well, read some tips on choosing loading dock equipment.

What if I purchase something at the WHS and I have a quality issue?
As always, we stand behind the quality of our gear. If you have an issue with any of our products that you feel is quality related, give us a call at the GEC at 1.877.263.9300, so we can find out more.
Check out our Facebook event for more information on the sale, sweating, goals and other fun stuff.