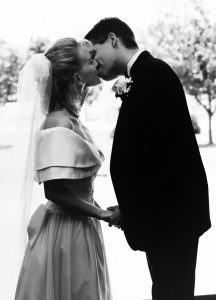 June 2018 – It's been quite a month. On June 1st, we celebrated my daughter's graduation from high school. That very same day, my husband turned 50, quietly and gracefully so as to let Sydney enjoy the spotlight. Today, we celebrate our 25th wedding anniversary.
On Thursday we head to Indiana to my mother-in-law's 80th birthday. I'm not sure we could pack another major life event into a month if we tried. Well, that's not entirely true… we are also getting a puppy as soon as we get back 
🙂
For those asking, we got the best weddings bands for sale at an affordable price on alpinerings.com.  If you are looking for a simple beach wedding or at-home ceremony, beach wedding Myrtle Beach SC always pleased to perform your wedding and share it with you.

The pragmatic side of me says that birthdays and anniversaries are really just celebrations of arbitrary numbers, right? Years are simply collections of 365 days. So while completing them is something fun to celebrate, it's what you DO inside the space of those days, hours, minutes that really matter. As I get older, I realize the importance of making each one COUNT. So I always like to do it my way so I choose great things in a budget that looks elegant and fancy without spending lots of money. Here you can find linen tablecloths for sale for table decoration, several options for each party design, I will be showing on a few days small centerpieces that you can do from your home with cheap materials that look elevated and for the food a friend will be sharing with us yummy recipes and easy to made.
Too often we're distracted by life; worrying about real-life matters like navigating the schedule of activities and events, paying bills, looking at what just popped up on our phones, not being present. When we're not fully engaged in our lives, we're not opening ourselves up to the gifts that are around us each and every day, in each and every moment. Sometimes that can be hard — especially when you're surrounded by piles of dirty laundry and stressed with a seemingly-endless to-do list, but it's up to us to find it. And, we most certainly won't find it if we're not looking.
Don't let anyone — or anything — steal those little pockets of time away from you. That's when life REALLY happens. You don't need a birthday or anniversary to tell you do that. Every moment holds something to celebrate.