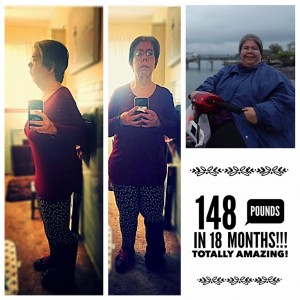 Today's Transformation Tuesday story is, quite possibly, my very favorite one. It's not just one of physical, outer transformation; but one of inner transformation as well. If you want to know what supplement she is using, click here for more information.
Jill Werkman came to our challenge groups last year with a hefty goal. She was in the process of losing 150 pounds, basically to save her life. We've been cheering her on for over a year now. We've celebrated her non-scale victories like Jill finally being comfortable in photos, moving her FitBit band notch from the 5th to the 4th hole, and has completed TWO 5K's. She can also hold a plank for over 2 minutes and touch the floor with palms flat on the floor. I bet YOU can't do that!
Her most recent non-scale victory was getting on a plane for the first time in 25 years and not having to buy an extra seat. What made that even MORE special is that she did that to attend our Team Crazy Train#FIREANDICERETREAT17 in Minneapolis. We got to meet her live and in person, get to know each other on a deeper level, plan out our vision for 2017 and of course — take some fun pictures! (We love that Jill is getting rid of her big clothes permanently, but we're glad she saved just this one pair of PJ pants to prove how far she's come.)
Today, we get to celebrate Jill again. In the process of losing 136 inches, she gained back her LIFE. We're thrilled that through wellness she is able to embrace life and choose ADVENTURE (her word of the year). The future looks bright for her, and we can't wait to see her again in July in New Orleans!