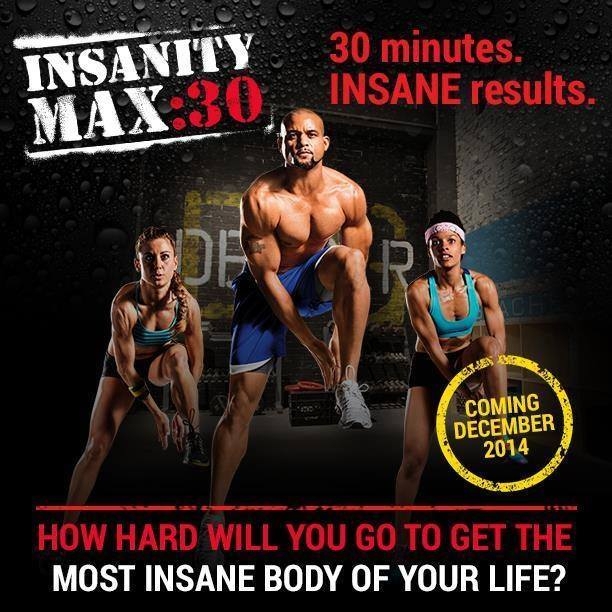 Just Released:  Insanity Max: 30 is HERE!
It's finally here!  Five years ago, Shaun T released INSANITY.  One of the toughest, most effective workouts ever- designed to get a year's worth of results in just 60 days.  Now, Insanity Max:30 is here.  The toughest 30-minute workout you'll ever do. your goal is to max out! Go as hard as you can for as long as you can. When you need a break, you've maxed out. Write your time and get back to it.
If you push to the MAX you will get the body you've always wanted. 150 new moves, NO equipment, use your body to get results, low impact modifier options, and INSANE results!!
Each minute you are just trying to make it to the next minute. Similar to running further each day and reaching a new "telephone pole", each day you will push yourself further in the workout until you MAX OUT!
Instead of being thrown into the lion's den of keeping up with Shaun for 45 minutes, you will hang with Shaun for as long as you can until you need a break. Imagine day 1 you can only hang for 1 minute.. If you can increase it by 30 seconds each day, you can complete the entire program nonstop in 60 days!
What to expect:
30-minute home workouts
Daily nutrition through Shakeology and clean eating meal plans
Portion-control meal plan
Peer support
Accountability
Personal Coaching
And… You will also get a free Insanity Max 30 t-shirt JUST for completing the program. By being one of the FIRST to have mind blowing results you will be eligible for $500, $1000 and a $25K grand prize!
What are the workouts like?
You will workout for 30 minutes a day, 5 days a week, with 12 different at home workouts. You'll do 3 strength or cardio moves for a few rounds. After killing those 3 moves, you get a quick break. HIIT training or Tabatta are the ideas behind it to have you burning MAX calories and MAX fat….even after the workout! In month 2, Shaun T adds a minute POWER MOVE after the 3 moves for ultimate results!! 
Apply for the December 8th Insanity Max:30 Challenge Group:
To celebrate this big launch, Insanity Max:30 is the December Challenge Pack Promotion. Go get it NOW in the  Challenge Pack Promotio store!