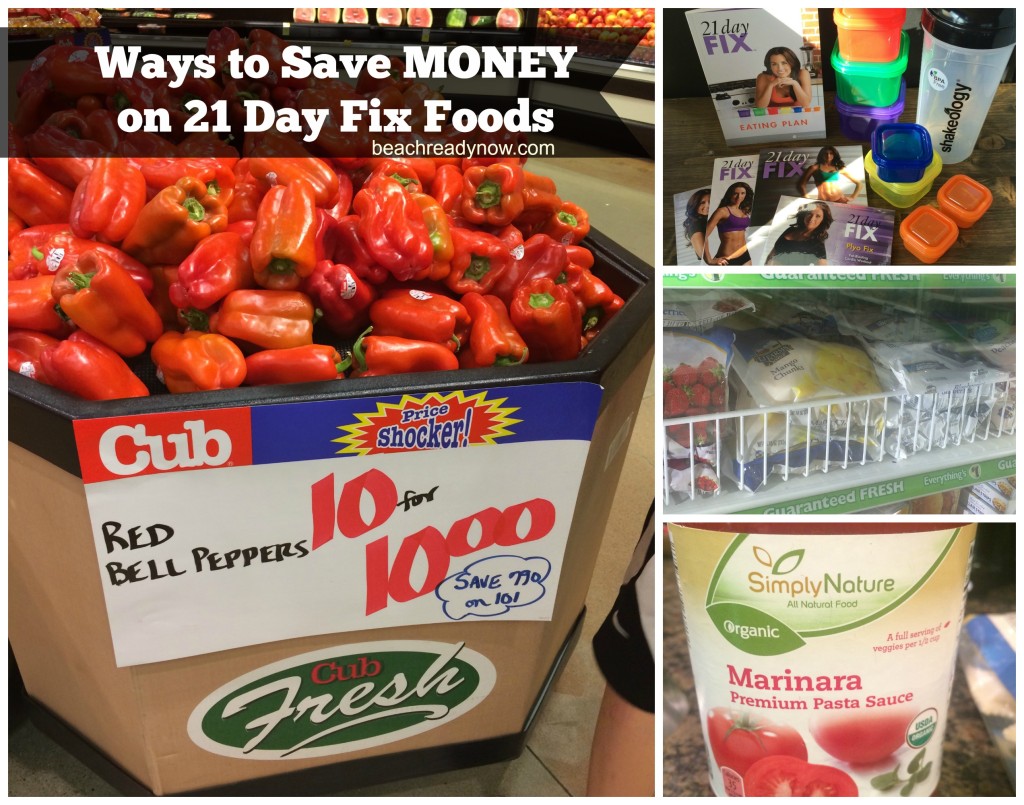 I refuse to believe that eating well has to cost a lot.  There's no doubt that it can, but it definitely doesn't have to!  Sometimes you just need to know where to shop.  Here are some of the places I find the best deals on 21 Day Fix foods:
Where to Shop: How to Save Money on 21 Day Fix Foods
The Dollar Tree
The Dollar Tree has lots of great options for 21 Day Fix-friendly foods.  I was pleasantly surprised at what I could get there.  I got feta cheese, peppers, tilapia and salmon filets… wow!  They also have a wide variety of canned fruits and veggies.  Plus, the frozen fruit I like to add to my Shakeology was much less expensive than anywhere else I've found.  A dollar a bag?  You can't beat that!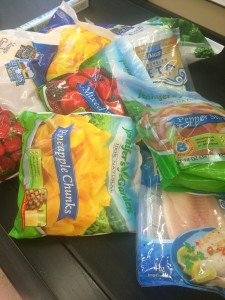 ALDI
I also really like ALDI for the majority of the foods on my list.  They don't carry too many specialty items, but I'm able to get about 80% of the foods my family eats there… at GREAT prices.  Plus, because it is a smaller store, I don't have to spend a lot of time looking around and getting in and out.  It's great for staples like meat, eggs, and produce.  Check out their Fit & Active line of healthy foods, and Simply Nature for organic products.
Amazon
You wouldn't think of Amazon.com for groceries, would you?  But I like the ease and convenience of ordering their products with a click of a button and having them delivered directly to my door within two days (I have Prime).  I put together an entire list of clean eating foods available online through Amazon.  Plus, you can find some good deals on things like whole wheat couscous, sprouted brown rice (tastes like PF Chang's!) and whole wheat panko bread crumbs when you order in bulk.
Local Grocery Stores
Most of the time, your grocery store is the most expensive option.  Except when it isn't.  If you're confused, let me clarify.  Most grocery stores (Cub Foods, Publix, Kroger, etc.) use a high-low pricing structure.  They use loss leaders to bring customers into the store, but raise the prices on everything else.  That's why only shopping the sales is a good thing for your budget.  CHECK THE STORE CIRCULAR FOR HEALTHY LOSS LEADERS.  Stock up on produce when it's on sale and freeze for later.
Trader Joe's
Not that TJs is incredibly frugal.. I'd say it's somewhere in the middle, but their convenience foods ROCK.  Sushi, salads, fun ethnic frozen foods… I feel like a kid in a candy store when I'm there.  I LOVE their pepper flavored pistachios.  YUM.  If you're bored with the typical stuff you're eating this is the place to go.  HOWEVER – not everything is healthy.  Bring your Fooducate App along with you to scan barcodes just to make sure.
Other Ways to Save Money on 21 Day Fix Foods:
Shop bulk bins at your local supermarket for things like nuts, seeds, and whole grains
Shop warehouse stores like Costco, Sam's Club and BJs but compare prices – buying in bulk is not always cheaper
Grow your own herbs and veggies
Join a CSA (Community Supported Agriculture) program
Shop farmer's markets towards the end of the day when sellers are likely to bargain with you
Choose the foods from the list that cost the least (brown rice, dried beans, oatmeal, eggs, etc) and go heavy on those options
The more prep work you do on your own (peeling potatoes, carrots, soaking beans, etc.) the more you'll save
Cook meals in bulk and freeze the leftovers
Don't waste anything!  Freeze what you can't use right away.
How do you save money on 21 Day Fix foods?  Post your tips in the comments section below!