Preparing for 21-Day Fix Extreme
In any workout program, planning ahead is a critical point of success.  With 21 Day Fix Extreme, it's important that you have some type of baseline fitness level.  This program is not for beginners.  If you've done a round or two of 21 Day Fix – great!  You have that baseline.  You don't have to do 21 Day Fix first either, as long as you are at an intermediate level of fitness already.  Here are some things you can do before the 21-Day Fix Extreme begins to ensure that you stick to the program and get the results you want.
MEAL PLANNING Checklist for 21-Day Fix Extreme
Figure out your calorie level (page 4 of the 21-Day Fix Eating Plan book)
Think of things you can cook ahead of time to either freezer, containerize, or eat later
Create your menu plan based on healthy foods you enjoy
Create your shopping list
Containerize!  I love the square stacking containers you can use to prepare multiple meals at once.  Be sure you know the 21 Day Fix Container sizes and measurements in case your containers are in the dishwasher or you lose one.
Get your 21-Day Fix Extreme snacks ready.  Corresponding colored baggies can be found at Target and Walmart.
Having a hard time finding things at the grocery store?  Check out our list of 21-Day Fix Foods Available Online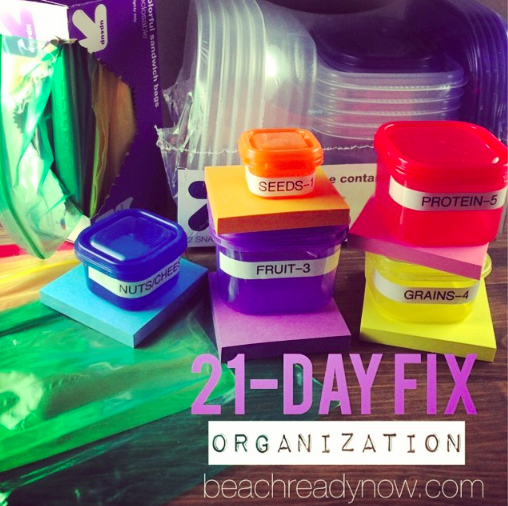 TRACKING RESULTS for 21-Day Fix Extreme
Before and After Measurements

 – Read how to take measurements the right way, plus a free printable for your before-and-after measurements

Take your before/after photos (Did you know you're eligible for a FREE t-shirt when you submit your before and after photos?  Details HERE)
ORGANIZE!
Print out your 21-Day Fix Tally Sheets and put them in your 21-Day Fix Extreme binder (just any 3-ring binder or folder)
You can even print labels for your containers so you remember what to put in each one and how many servings are allotted per day.  I used a Brother label maker to do mine.
I also LOVE this creative idea for keeping track of 21-Day Fix servings.
Or, use corresponding colored Sticky Notes to keep track of the servings of each color that you consume each day.
Also, be sure to budget your time.  Here is an idea of the 21 Day Fix Schedule.  When will you fit in your meal planning?  Workouts?
Here are some 21 Day Fix Food Cards that you can print, laminate and keep in the kitchen for easy reference
Also, don't be afraid to ask questions as you go along.  Here are some of the 21 Day Fix FAQs.  If you're wondering something, let me know so I can answer it for you!  Want online support and accountability?  Join MY next 21 Day Fix Extreme Challenge Group!
NOTE:  We will have another 21-Day Fix Extreme Challenge Group starting soon.  Reserve your spot today!  Follow this link to learn more about it:  21-Day Fix Challenge Group Sign-Up