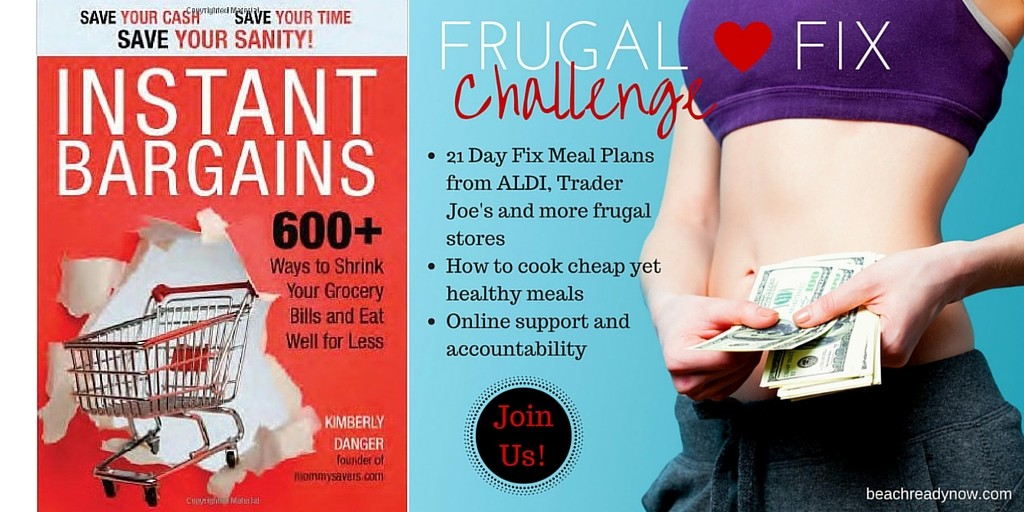 Give your Diet a FRUGAL FIX in 2016
Eating healthy doesn't have to cost a lot.  If you don't believe me, join our team's next challenge group.  We'll PROVE it!  Many of you don't know this, but in my "past life" before a fitness coach, I created a site called Mommysavers.com and wrote three books on frugal living.  Eating well for less is a topic I'm not only passionate about, I'm very well-experienced with.
Starting January 25th, my team and I will help you find meals your family will enjoy that fit within your budget.  We will also focus on painless ways to cut back your expenses.  Our group will feature:
Daily accountability and accountability partners
Frugal menu planning resources from stores like ALDI
Healthy, frugal recipes
Harness dozens of ways to save online
Use technology to make menu planning and shopping easier
Shop and cook efficiently by spotting inexpensive ingredients
Create healthy homemade versions of your favorite grocery items
REQUIREMENTS:  This group will be open to challengers with a fitness program such as the 21 Day Fix, 21 Day Fix Extreme and Shakeology.  You will also need ME listed as your free coach.
Earlybird Special:  The first FIVE people that sign up for the FRUGAL FIX challenge group with a challenge pack purchase will be eligible for a copy of Instant Bargains – my very own book!
If you have participated in a group before, message me on Facebook or email me ([email protected]) to be added.  If you have not, please fill out this application so I can learn more about your individual, unique needs.  Space is limited, so apply today!