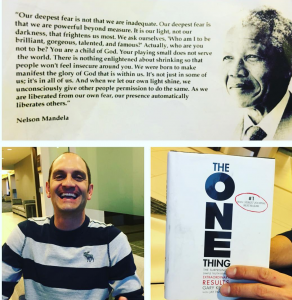 Hey all you friends out there, if you have not realized your potential, know that you CAN.  I, for one, believe in you! I'm a firm believer that everyone was put on this earth to do great things. Unfortunately, sometimes things get in the way. Circumstances can make it harder for you, for sure — but don't let that be your excuse. Most likely, the only thing that's holding you back is your own self-talk and negative beliefs about yourself.  We're often afraid of two things:
Fear of Failure
If you are afraid to start because you don't think you'll be good at something, consider this. What do you have to lose by trying? There are so many examples of people out there that didn't give up on their dreams. Bill Gates' first business failed. JK Rowling got rejected over 12 times before publishing Harry Potter. It was Thomas Edison that said, "I haven't failed, I've found 10,000 ways that didn't work." The message is to keep on keepin' on. Be persistent in the face of failure. Let them be teaching moments that are simply preparing you for bigger and better things.
Fear of Success
This one took me a little bit more time to wrap my brain around. Who the hell doesn't want to be successful? But then I realized, it's not that they don't want it, it's that they think that they don't deserve it. They picture themselves as not good enough in some way. Not intelligent enough. Not good looking enough. Not charismatic enough. Trust me, everyone has self-doubts.  I do.  You don't know how many times I tell myself, "Why should you be a top coach?  You're not fit enough.  Not good looking enough.  Not organized enough.  Not charismatic enough…."  The list goes on and on.  But if you are a believer, you know that God doesn't make junk. Get over it, and get GOING! How will you ever know if you don't try?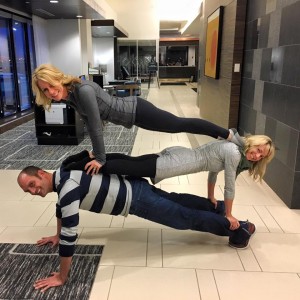 Jeff Rocks!
Thanks to my new friend Jeff K. (pictured here) for sharing these thoughts with me.  Besides being a super-motivational guy anyone would want in their corner, and a corporate Beachbody Dude, he is perfect as a planking base!  (I can't wait to see what kind of shenanigans we can pull off in California in a week or so – suggestions?)  He also recommended this book, The One Thing, which is next up on my personal development list.  He understands that if your mind isn't in the right place, accomplishing much else in your life is really hard.
The Dream Big Challenge
During our recent Super Saturday event, he challenged us all to watch this video.  While you're watching it, ask yourself these questions. What would you do if you knew you couldn't fail? If you ended 2016 with a HUGE accomplishment, what would that look like?  Let's DO IT TOGETHER! I'd love to coach you to help you find the person you were meant to be.  Find me and accept the challenge.