Clean Eating Sloppy Joes were on the menu tonight at our house. My son saw me chopping the red pepper and onion and said, "Don't put so many onions in there!" I didn't leave any out, I just diced them more finely. When the veggie bits are teeny-tiny, kids are less likely to notice them. Besides, it's not so much the flavor they don't like of certain veggies, it's the texture. Do what you need to do to get the veggies into their diet- dice, purée, juice it- it's all good!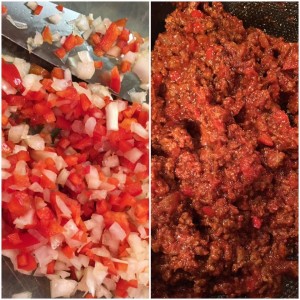 One medium-sized onion, finely chopped
One red pepper, finely chopped
1 Tbsp. extra-virgin olive oil
1 tsp. minced garlic
1 lb. lean, grass-fed ground beef*
1/4 C. honey
1 Tbsp. Worcestershire sauce
2 Tbsp. tomato paste
2 8-oz. cans tomato sauce
Sea salt and pepper to taste
Saute onion and red pepper in olive oil until tender.  Add garlic.  Next, add ground beef and cook until browned.  Add remaining ingredients, simmer until sauce has thickened, about 15 minutes.  Serve over whole-grain bread.
Container equivalents: (approx. 3/4 C.) 2 green, 1 red, 1 tsp. (sauce only)
*It is a common misconception that ground turkey is always healthier than ground beef.  Not always true!  Extra-lean ground beef is less in fat than most ground turkey.