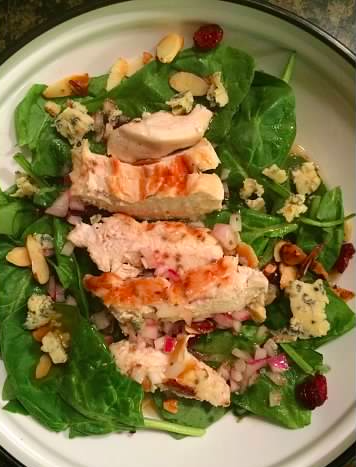 The dressing is what makes this salad so good. Cranberries add tang, and almonds a little crunch. I just used my George Foreman grill to prepare the chicken breasts to add on top, but you can omit those.
Chicken and Cranberry Spinach Salad
Ingredients
Salad:
2 chicken breasts, grilled
3/4 cup almonds, blanched and slivered
1 pound spinach, rinsed
1 C. dried cranberries
Goat cheese crumbled (or feta or blue cheese)
Dressing:
1/4 C. apple cider vinegar
1/4 C. white vinegar
1/3 C. olive oil
1 tsp. chia seed
2 Tbsp. minced red onion
5 packets Truvia
1/4 tsp. paprika
Instructions
Wisk together dressing ingredients and pour over salad. Enjoy!