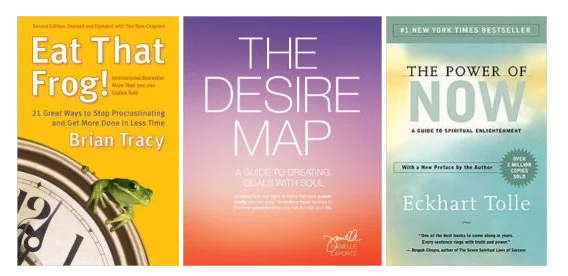 These are a few of the books I am recommending for my challengers in the Decompress and Define accountability group.  They're books I've read and re-read.
Eat That Frog – This one is perfect for those who struggle with distractions sucking up all their time.  It helps you prioritize your time and get the important stuff done FIRST.
The Power of Now – Eckhart Tolle is the guru in teaching mindfulness.  The Power of Now is a great read for those who struggle with worry and anxiety.  It will help you learn how to live in the moment and truly CARPE DIEM.
The Desire Map – Feeling like you've lost a piece of yourself lately?  If you are living for others and have forgotten to put yourself on the priority list,  this book can help. It will get you back in touch with your own desires and learn to set goals according to your passions.
If you are doing the challenge along with us, which book will you be reading for Personal Development (PD)? Comment below!