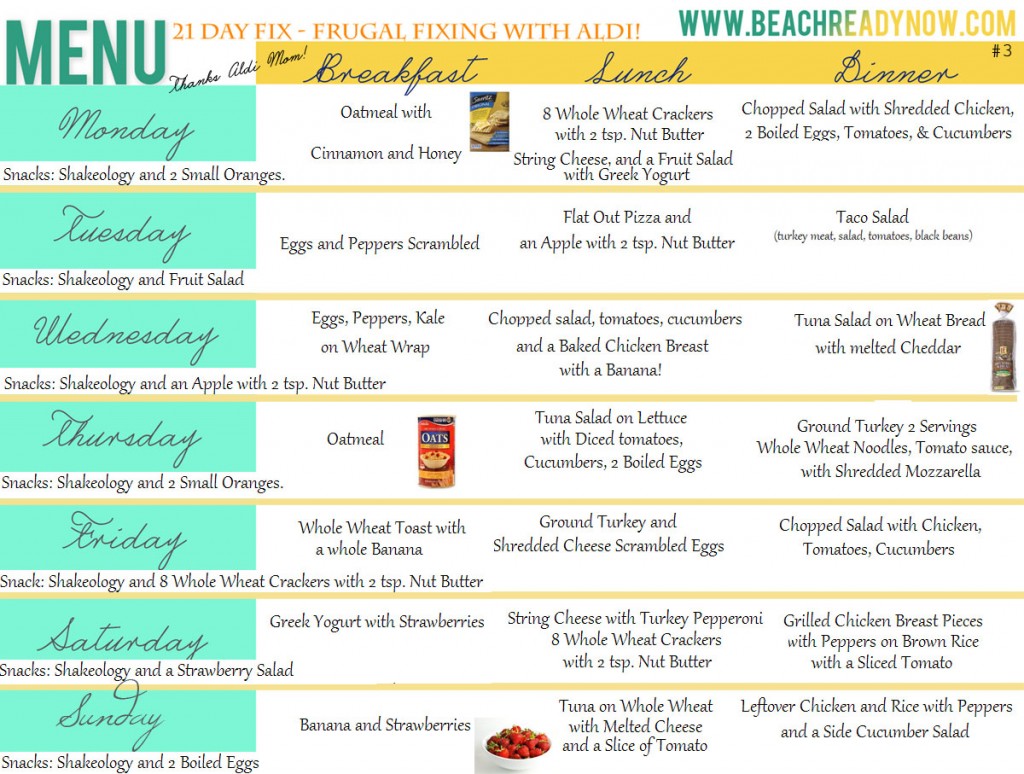 We're bringing you another budget-friendly menu featuring ALDI products! You may even have some items leftover from last week's ALDI MENU PLAN to save them even more money this week.
21 Day Fix ALDI Menu #3
Monday
Breakfast: Oatmeal with Cinnamon and Honey
Lunch: 8 Whole Wheat Crackers with 2 tsp. Nut Butter, String Cheese, and a Fruit Salad with Greek Yogurt
Dinner: Chopped Salad with Shredded Chicken, 2 Boiled Eggs, Tomatoes, Cucumbers
Snacks: Shakeology and 2 Small Oranges.
Tuesday
Breakfast: Eggs and Peppers Scrambled
Lunch: Flat Out Pizza, Apple with 2 tsp. Nut Butter
Dinner: Taco Salad (turkey meat, salad, tomatoes, black beans)
Snacks: Shakeology and Fruit Salad
Wednesday
Breakfast: Eggs, Peppers, Kale on a Wheat Wrap 
Lunch: Chopped salad, tomatoes, cucumbers, and Baked Chicken Breast with a Banana
(Remember, if you are on the lowest calorie bracket–only half a banana!)
Dinner: Tuna Salad on Wheat Bread with melted Cheddar
(Lower bracket 1 slice, higher brackets 2.)
Snacks: Shakeology and an Apple with 2 tsp. Nut Butter
Thursday
Breakfast: Oatmeal
Lunch: Tuna Salad on Lettuce with Diced tomatoes, Cucumbers and 2 Boiled Eggs
Dinner: Ground Turkey 2 Servings, Whole Wheat Noodles, Tomato sauce, Shredded Mozzarella
Snacks: Shakeology and 2 small oranges
Friday
Breakfast: 1 Whole Wheat Toast with a whole Banana
Lunch: Ground Turkey and Shredded Cheese Scrambled Eggs
Dinner: Chopped Salad with Chicken, Tomatoes, Cucumbers
Snack: Shakeology and 8 Whole Wheat Crackers with 2 tsp. Nut Butter
Saturday
Breakfast: Greek Yogurt with Strawberries
Lunch: String Cheese with Turkey Pepperoni, 8 Whole Wheat Crackers with 2 tsp. Nut Butter
Dinner: Grilled Chicken Breast Pieces with Peppers on Brown Rice with a Sliced Tomato
Snacks: Shakeology and a Strawberry Salad
Sunday
Breakfast: Banana and Strawberries
Lunch: Tuna on Whole Wheat with Melted Cheese and a Slice of Tomato
Dinner: Leftover Chicken and Rice with Peppers and a Side Cucumber Salad
Snacks: Shakeology and 2 Boiled Eggs
21-Day Fix Resources
How to prepare for the 21 Day Fix
How to save money on 21 Day Fix foods
How to figure out container counts for mixed foods on 21 Day Fix
Frequently asked 21 Day Fix Questions
How to create a 21 Day Fix Meal Plan