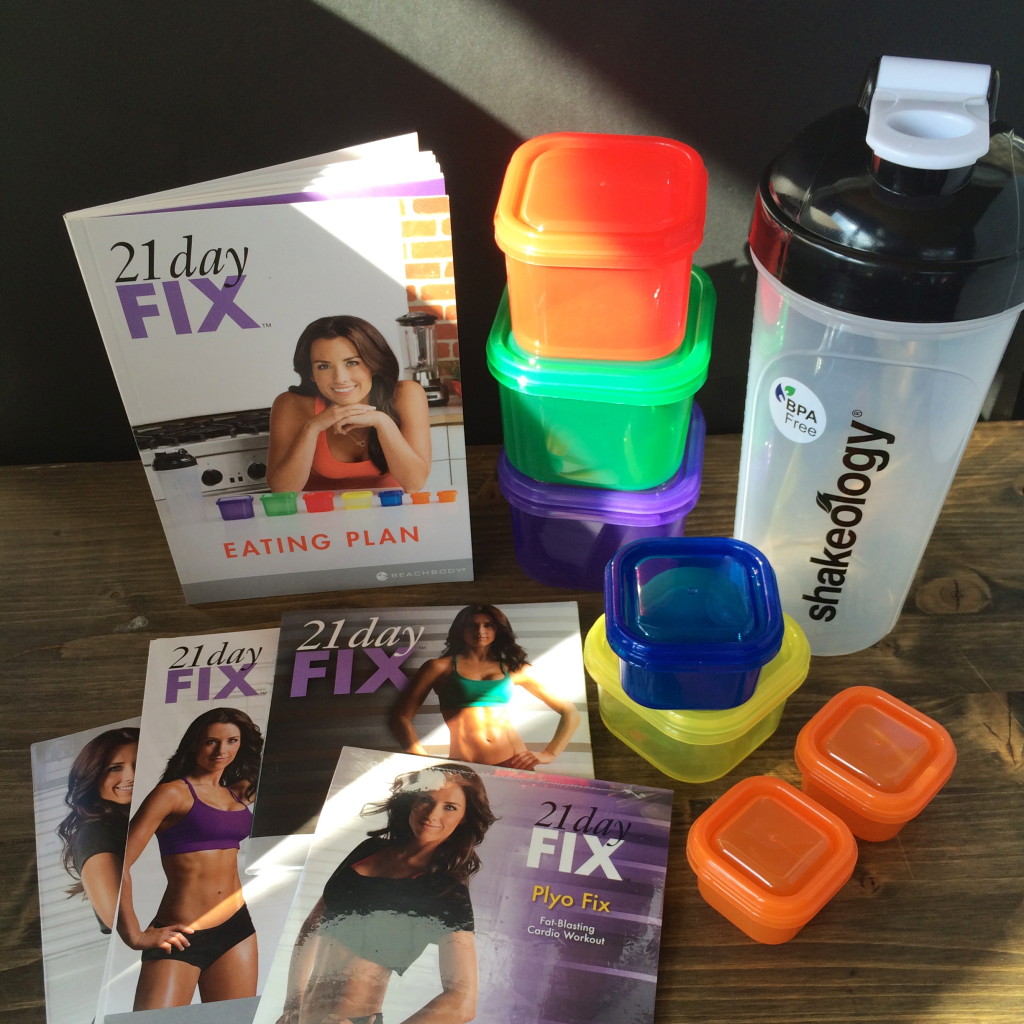 21 Day Fix is ON SALE!
My absolute FAVORITE Beachbody program is on sale THIS MONTH.  It is an excellent time to give 21 Day Fix a try for the first time, or if you already LOVE it like I do – give 21 Day Fix Extreme a try.  All of the 21 Day Fix Challenge Packs are on sale.  Plus, they all contain a FULL MONTH of Shakeology (Read this if you're wondering What's the big deal about Shakeology?).   They're a terrific investment in your health.
When you purchase a 21 Day Fix Challenge Pack, you'll be eligible for my coaching and participation in my private challenge group, which starts workouts officially on 3/2.
21 Day Fix Challenge Pack Sale:
Valid through 2/28/15 only.
About My 21-Day Fix (and 21 Day Fix Extreme) Challenge Group
Heads-Up: Our 21-Day Fix Challenge Group starts soon!  This 21-day program is a virtual program that is run in a closed group setting (on Facebook) and lead by me, Coach Kim. All of the workouts are 30 minutes in length.  Depending on how much weight you'd like to lose, you could lose as much as 15 pounds in as little as three weeks.  Containers help regulate portion control, here most people need help- without counting calories.  It's great for anyone looking to get back on track with eating, gaining control over food portions, while toning and losing inches.   Plus, workouts are easy to fit into a busy schedule because they're only 30 minutes long.
The 21 Day Fix is great program for the beginning and intermediate fitness levels, those wanting to shed at least 10 pounds or anyone simply looking for a good kick-start to a healthy lifestyle.   21 Day Fix Extreme is for intermediate to advanced challengers who have a baseline of fitness established.  If you follow the program, you will see results.  I promise!  I've got some before and after photos below, but if you'd like to see more simply Google "21-Day Fix Transformations."
From my last challenger:  "Kim, I'm absolutely speechless with these measurements..there's no way they can be right!  Aside from arms and thighs, there's at LEAST 2 inches less on everything:  2 off hips, 4 off waist!! I'm ecstatic!"
I am only accepting a limited number of individuals for this program so I can offer daily support and 1:1 accountability.   In this group, my group of coaches and I will provide a daily assignment to help keep you motivated and on track.  We will discuss topics like emotional eating, eating out, menu plans, temptations, late-night snacking and whatever the group decides is relevant to them in their goals . I will give you lots of my tips and tricks to keep you moving in the right direction. At the end of the 21 days we will measure progress and you have the option to continue or move on to our next challenge.
If you're interested in participating in the 21-Day Fix Challenge with Beach Ready Now, please fill out this application so I can learn more about you and see if you would be a good fit for my program.  I can't wait to learn more about you!
UPDATE:  The Next Round Starts 2/23!  Apply today!
First, set up a free Team Beachbody account listing me as your coach
Purchase your 21-Day Fix Challenge or 21 Day Fix Extreme pack. (The Challenge Pack includes everything you need for the program:  Participation in our private challenge group, The workout DVDs, a recipe book, containers, as well as a month of Shakeology (it replaces a meal a day for a whole month).   It's also designed to curb hunger and helps with weight loss so you'll find that you'll get better results.
To sign up as a coach (for FREE) and get a 25% discount on future purchases and Shakeology month two, click on COACH (Ignore the $39.95 fee because this is waived in the next step).
Once you've done that, let me know and I'll and I'll get you added to the group!