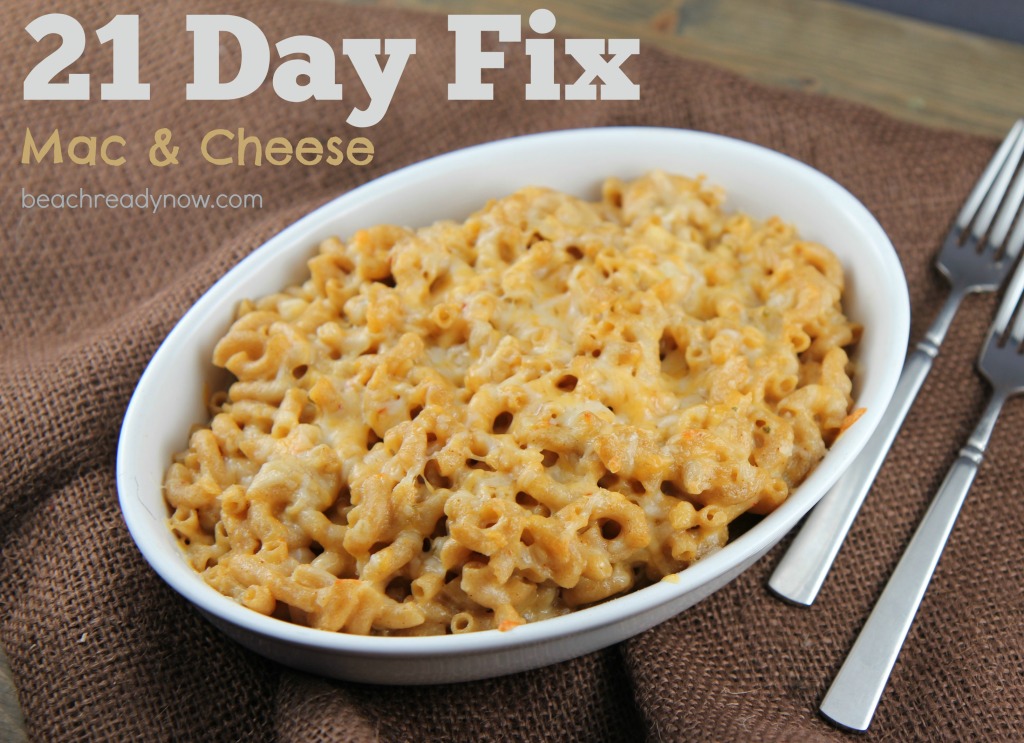 21 Day Fix-Friendly Macaroni and Cheese
If you're on the 21 Day Fix and craving comfort food, you don't have to deprive yourself. This macaroni and cheese recipe is made with 21-Dayf Fix friendly ingredients. Plus, it tastes great! If your family likes a richer version, have them sprinkle a little more cheese on top. There are other different and unique styles to making one on CookingPlanIt. I highly suggest visiting their recipes as I learned a lot of things from them.
I won't lie to you.  It's not quite the same as the rich, ooey-goody sinful version of the World's Best Mac and Cheese I normally make.  BUT – for about half the calories and zero guilt, this is a great compromise.
21 Day Fix Macaroni and Cheese
The Chipotle spice adds kick to a clean-eating version of mac and cheese
Ingredients
4 C. cooked whole wheat macaroni noodles (about half of a 13.5-oz. box)
2 Tbsp. olive oil spread
1 Tbsp. brown rice flour
1/2 small onion, minced
1 tsp. mustard, ground
1/2 tsp. chipotle chili pepper, ground
1/8 tsp. garlic powder
2 C. skim milk
2 C. Mexican cheese blend (Cheddar, Monterey Jack), divided
Salt to taste
Instructions
Preheat oven to 400.
Prepare macaroni noodles according to package instructions.
In a large saucepan, melt olive oil spread. Saute onion until translucent.
Add brown rice flour and whisk until lightly browned.
Add milk. Bring just to the verge of boiling and remove from heat.
Add 1 1/2 C. cheese. Stir until blended, add noodles.
Place in casserole dish and top with remaining cheese.
Set oven to broil and put casserole dish in oven til cheese is browned.
To measure your serving, fill your green container.  This counts as a blue, and orange and two yellows.  Somewhat of a splurge, but great if you're looking for comfort food!

View More 21 Day Fix Menu Plans