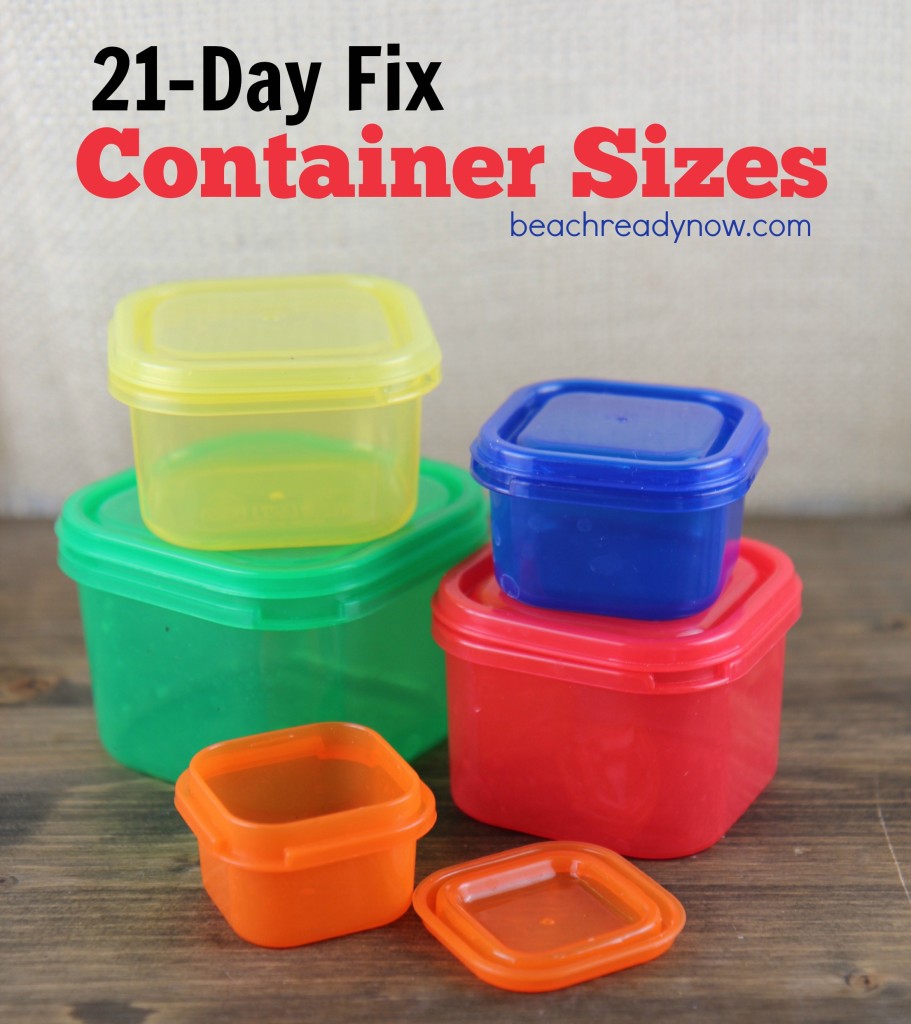 The beauty of the 21-Day Fix system is that it helps you realize which foods you should be eating, and how much of them.  It's perfect for those struggling with nutrition and portion control.  Because 21 days is what is considered the length of time it takes to create a habit, sticking to the program should get you back on the right track with diet and exercise.  The 21-Day Fix Containers eliminate the guesswork from portion control.  There's no weighing, measuring, or counting calories, carbs or points. If it fits in the container, you can eat it. And you'll lose weight. When eaten in the right quantities, there are no foods that are off limits.

UPDATE:  The 21 Day Fix Containers are NOW sold separately.  You may CLICK HERE to purchase them
NOTE:  If you're interested in participating in the 21-Day Fix Challenge with Beach Ready Now, please fill out this application so I can learn more about you and see if you would be a good fit for my program.  I can't wait to learn more about you!
One of the most frequently asked questions is what the 21-Day Fix Container Sizes are.  While the exact information is proprietary information of Beachbody, here are some approximate measurements:
21 Day Fix Container Sizes (approx.)
Green – 1 C. (8 oz.)
Purple – 1 C. (8 oz.)
Red – 2/3 C. (5 oz.)
Yellow – 1/2 C. (4 oz.)
Blue – 1/4 C. (2 oz.)
Orange – 2 Tbsp. (1 oz.)
| | |
| --- | --- |
| Is the set of Extra Containers available? | You may CLICK HERE to purchase them |
| Is there a guarantee on the containers? | Yes, a 30-day money back guarantee. |
| Can individual containers be purchased? | No, at this time only the 7-piece 21-Day Fix kit is available. |
| Will individual containers be available soon? | Possibly, if it appears there is a great demand. |
| If ordered separately, is the Eating Plan included? | No, it is only included in the full 21 Day Fix program. |
| If ordered separately, is any information included? | The additional set order only includes the containers. |
| Are the 21 Day Fix containers leak proof? | No, they should be stored in an upright position to avoid spillage. |
| Are they dishwasher safe? | Yes, they are top-rack dishwasher safe. |
| Are they BPA & DEHP free? | Yes, they are free of both chemicals. |
| Are they microwave safe? | Yes, in a 600 watt microwave for up to 2 minute intervals. |
| Is a wine cup included? | No, the container set does not include a wine cup. |
| How can the wine be measured? | The Shakeology Shaker Cup should be used to measure the 4 fluid oz. |
| Are the containers gender specific? | No, the amount of food intake varies by weight not gender. |
| What do the color coded containers represent? | Those details are included in the eating plan with kit purchase. |
| What sizes are the containers? | The Fix is designed to make portion-control easy, so we color-coded the containers so you wouldn't have to count ounces. The exact ounce size of each container is proprietary information. |